Knock and G5 Partner to Provide Best-in-Class Digital Marketing and Leasing Operations for the Multifamily Industry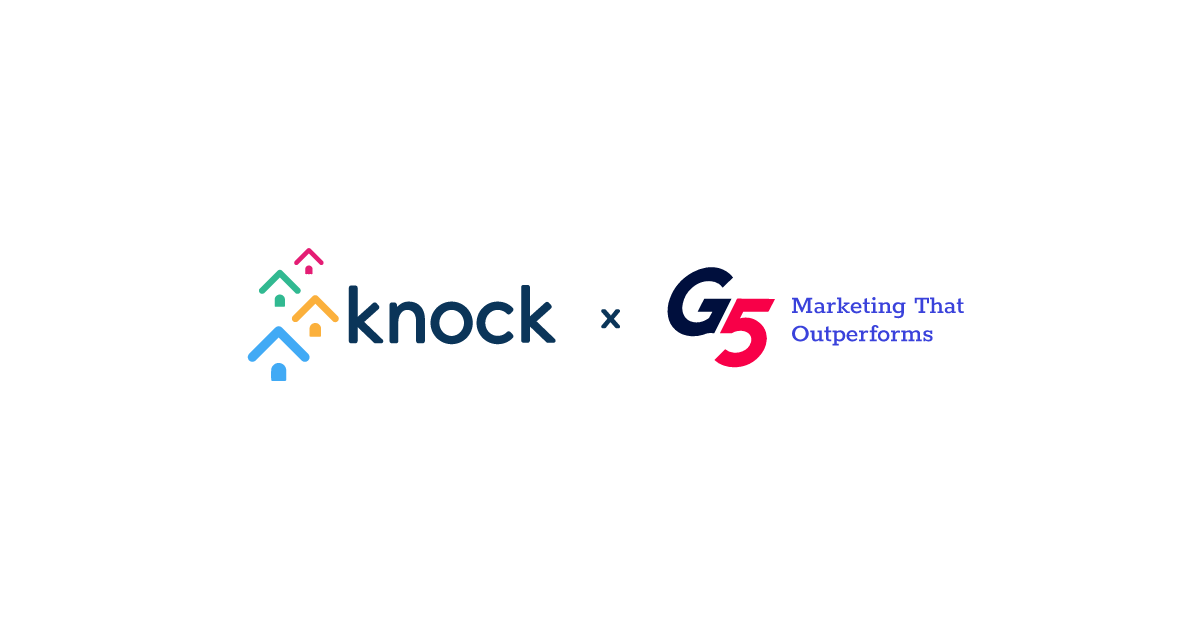 We are thrilled to announce that we have partnered with G5 to provide tech-forward solutions that are designed to convert and optimize performance across every stage of the rental experience!
We are focused on partnering with the best of the best technology providers so we can give you – our customers, and your customers – the best possible experience. So, with that in mind, we are excited to announce our partnership with G5, the leading digital marketing software and services platform for multifamily properties. When combined with Knock, multifamily's #1 CRM and performance platform, the partnership provides our shared clients with best-in-class digital marketing and leasing operations through the most tech-forward solutions in the industry, ensuring optimized performance across every stage of the rental experience.
"Knock and G5 have come together to deliver a combination of efficient lead generation with an incredibly smooth lead-to-lease transition," said Nicole Subia, regional marketing manager, FPI Management. "These two tech solutions are truly better together – better for our teams' experience, better for our renters, and better performance. The icing on the cake is the service both companies provide, whether it's a new contract or a support request. These companies are second to none. My teams get responses within hours, sometimes even minutes, which makes our experience working with these companies and tech solutions invaluable for us."
Among the benefits of our partnership are:
G5's digital marketing platform uses machine learning to deliver more traffic and 3x more quality leads.
Knock's intelligent lease operations optimize processes and deliver 20% more conversions.
By utilizing the G5 and Knock tech stack combo, multifamily marketers get the most efficient lead generation with the smoothest lead-to-lease transition.
"Multifamily marketers must compete to capture the highest quality leads, then leasing teams must work incredibly hard to make sure each one is carefully nurtured throughout the customer journey, until a lease is signed," said Demetri Themelis, CEO and Co-founder, Knock. "Knock and G5 customers operate with confidence knowing they are using best-in-class technology solutions to execute on these mission-critical objectives. Not only is our collaboration accelerating positive outcomes for clients today, but it is improving the data and insights needed to outperform tomorrow."
Olivia Johnson, Senior Director, Solutions and Partnerships, G5, adds, "G5 creates websites and digital campaigns that are designed to convert prospects into leads, while Knock's leasing operations are designed to convert those leads into leases. It's really the perfect partnership because it allows multifamily operators to connect the dots between finding and converting prospective renters."
Knock PR contact: Dex Polizzi, knock@luminapr.com