101 Ways to Show Your Residents Some Love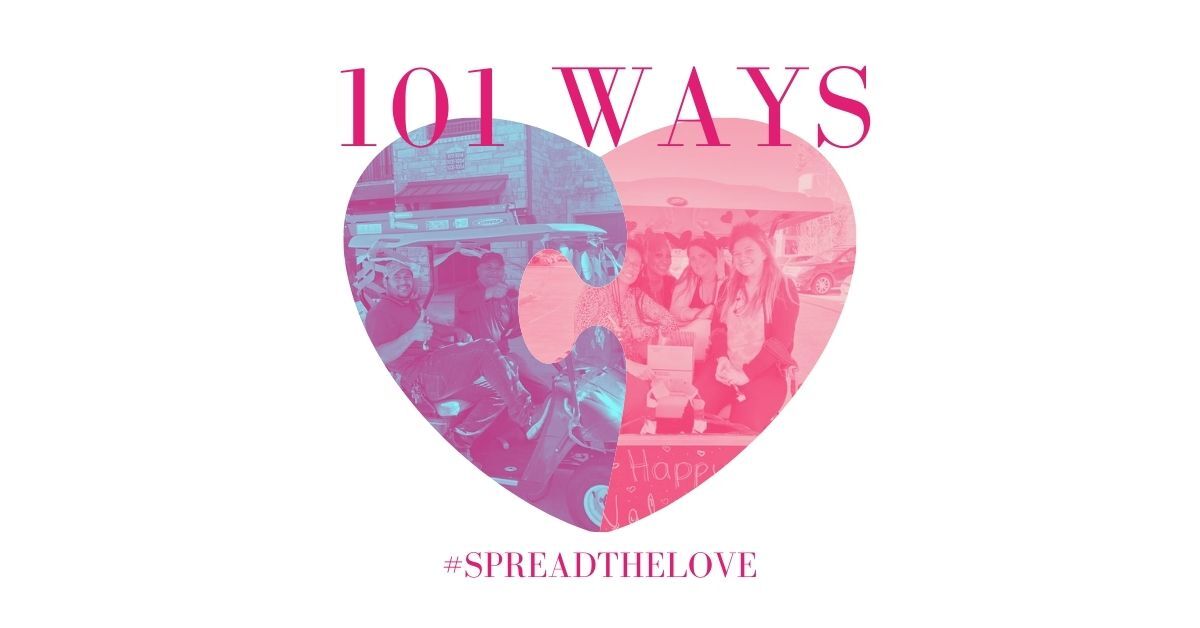 If you work in multifamily, chances are you've read every article out there listing ways to keep residents engaged. But have you noticed how they all feature the same 10 ideas? We can do better than a seemingly endless stream of "pet of the month" elevator signs and provide some real opportunities to surprise and delight customers.
So, on an episode of our Renter Obsessed podcast, we challenged our audience to help us come up with 101 ways multifamily teams can show their residents some love.
Thanks to their Herculean efforts, here is a comprehensive list of 101 ideas for resident retention and prospect engagement. (For all of these resident events, invite prospects, too!)
Love notes/notes of appreciation.
Treat bags/goodie bags for residents (and pets!).
Themed cocktails.
Mimosa cart through the building.
Raffle drawing for gift baskets filled with goodies.
Individual chocolate boxes for residents to pick up.
Valentine's Day decorations in the clubhouse.
Donuts on Mondays.
Build-your-own-bouquet bar. (Make your own Christmas ornament bar, anyone?)
Make-your-own-Valentine station. (Sub in a different craft for each holiday!)
Just be nice to people!
Themed bingo.
Breakfast-on-the-go.
Make time to stop and have meaningful conversations with everyone you come into contact with.
Holiday-themed photoshoots for residents.
Neighbor meet-up events.
Scavenger hunt.
Hot chocolate bar. (Bonus points for including branded mugs!)
Sending Valentine's cards/holiday cards. (And don't be afraid to include an ask for reviews!)
Charity drive — collect shoes, clothing, food, etc.
Cheese and wine nights.
Cinnamon roll bar.
Have residents make holiday cards for area nursing homes/hospitals.
Guess the amount of candy in a jar for a prize.
Custom chip bags. (Because your residents are "all that and a bag of chips.")
Host a mini-parade through or in front of your community.
Bring in local food trucks. (Which can bring in prospects, too!)
Have residents write why they love living at your community, then turn their quotes into inspirational posters using a tool like Canva. (And be sure to give a prize for the most popular quote!)
Forge a great relationship with restaurants and cafes near your property. (Who doesn't love free food?)
Host a "house party" where residents can invite friends and family. (and offer them a rent discount if their guests apply!)
Pajamas and Prosecco party. (Bonus: Turn it into a social media challenge!)
Bring in a dance teacher to your community room/gym and have a swing dance night.
Take $50 off rent if residents host one of your events.
Host a Wine Wednesday each week for residents to get to know their neighbors.
Gift wrapping party for Christmas
Complimentary gift wrapping around the holidays, or put out a gift-wrapping station for your residents.
Take advantage of whatever "National blank Day" it is. (National Macaroni Day, National Mashed Potato Day, etc.). Have related food or partner with a related local business.
Special discount from local jeweler the week before Valentine's Day.
Bring in local florists for residents to make their own floral arrangement.
Pet photo station .
Pet social media contest.
Pet kissing booth.
Free fun socks for Father's Day.
Create an instagrammable experience — bring in a seesaw or something fun that people will want to take pictures with, and then they can tag your community on social media.
Attend sporting events — get in touch with local teams, esp. Minor-league teams, and partner with them for bulk rates on tickets. Sell at a discount to residents, and give free tickets to prospects.
Give tickets to local symphony/opera/ballet company at discounted rate.
Discounted bulk tickets for residents to concerts.
Start a car club for residents who enjoy tinkering with cars, and host it in your garage!
Sponsor a tailgate at local sporting events.
Estate/yard sale for the whole community.
Designated "takeover" nights at local bars.
Designated trips to farmers markets.
Get an app that facilitates communication between residents.
Virtual cooking classes.
Golf Uncorked — pair wine with golf lessons.
Let residents who are crafty/artists display their work in the community (and give a discount to other residents if they purchase any pieces!).
Host a night market in your community room for residents to sell their crafts/wares/etc.
"Yappy hour" for owners and their pets. Offer wine/beer for dogs.
Bring in a mobile pet groomer.
Bring in shoe repair/cleaner.
During the holidays, deliver packages straight to residents' doors instead of them having to go to the mailroom.
Have maintenance walk door to door and ask if there's anything residents need fixed.
Have maintenance create video tutorials for small/common fixes.
Bring in a special speaker each month for learning opportunities — tax expert, maintenance expert, investment expert, etc.
Bring in a financial planning expert who can have "office hours" for residents. Help them get to the next level in life!
On Adopt a Dog Day, if a resident adopts a dog on that day waive their pet fees.
Host a pet adoption drive at your community. If residents adopt a pet, waive pet fees.
Loan out community spaces for free to local nonprofit organizations.
Host polling stations around elections.
Host blood drives.
Bring in a mobile veterinarian.
Start a school supply drive for local elementary school.
Create a community pantry or community store, which offers critical items (like food staples or school supplies) for free to residents in need.
When a resident is moving out, offer as a service the opportunity to take their donations for them to a donation center.
Organize a group to do off-site volunteer work.
Put residents' birthdays into a calendar and give each person a treat/signed card on their birthday. Create a video of your team singing happy birthday and send that one video to each resident.
Create a community garden.
Create a community paint area.
Turn an empty space into a DIY room — residents can paint new furniture, work on crafts, etc.
Put together a bicycle repair station.
Designate some residents as social directors, and give them a discount for planning resident events.
Offer popsicles by the pool every Sunday in the summer.
Have a babysitting night/date night for parents: Offer babysitting from 7-9 in a community room/space.
Have a "meet the bus" group for working parents to get their children to school on time.
Movie night in your outdoor space. Take it a step further for movie night in your pool with inflatable screens!
Hire a Disney princess/performer for children in the building.
Host a progressive dinner if your property has multiple buildings, with one course in each building.
Start a community book club.
Host an open mic night.
Live stream all events so people can attend virtually, if they want to.
Partner with a local beauty school to bring in spa services to your community room.
Put together items for "spa packages" for residents' self-care.
Give new residents a move-in gift.
Print custom return labels/stamps with residents' new address when they move in.
Create a countdown for their move-in date, and include reminders for last-minute things people should do before the move.
Book swap library in common spaces.
Turn a property golf cart into an ice cream truck and go around during the summer.
Have a balcony decoration contest
Fitness clubs/running clubs
Have residents submit a recipe for a community cookbook.
Host rubber duck races in the pool.
Host a BFF party — botox, filler, and fine wine.
Let residents open up their homes for a tour night — see how same floor plan is decorated differently according to people's individual styles.
Have people decorate lanterns to send up wishes.
Have new residents put their name/handprints on bricks, then pave a space.
If you've made it this far, you'll see we actually blew past our goal and came up with 105 ideas for you to steal for your own communities! But we don't need to stop here — tag Knock in your social media posts and use #spreadthelove to join the list!