Assessing the ROI of Multifamily Technology: What You Need Know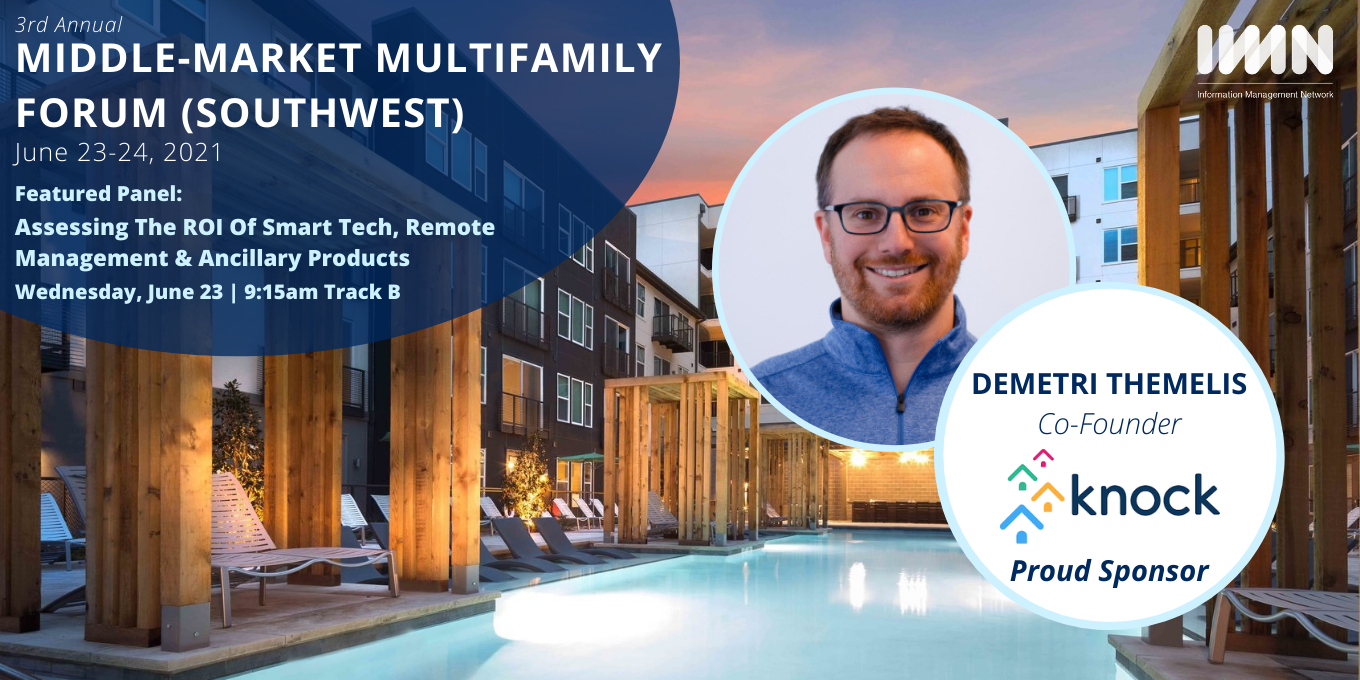 Technology is playing a major role during the reopening of the apartment industry post-pandemic. The past 15 months has seen industry providers innovate and upgrade products that serve many purposes as apartment operators look to gain that competitive advantage in their markets.
From smart home technology, leasing, amenities and customer relationship management (CRM), operators must make sure the right technology product is chosen for the right purpose by making sure the technology demonstrates increased net operating income (NOI).
"Every dollar demands a return," said Demetri Themelis, co-founder of Knock, during an industry panel presented at the IMN Southwest Middle-Market Multifamily Forum that included operators and other technology leaders who discussed working with supplier partners and the path to finding success with technology investment.
Moderator Marshall Friday, Director of Sales, ADT Multifamily, asked how CRM platforms that have "all kinds of data about day-to-day operations" can help operators "turn that data into actionable value."
A Winning Approach
Knock manages ~1.7 million units for its clients. Themelis outlined what he finds to be the wisest approach to technology investing and the important role that CRM plays.
"When you walk any trade show floor, every supplier will have a sign that says, 'Improve Your NOI,' he said. "Sure, that's the goal. Operators have to find the best input to get the most output. The output is the NOI you are trying to increase. You need to understand the chain that leads to NOI and how to get there for every piece of technology you invest in. If you do, this is the golden ticket to ensure that you will get that ROI."
He said of apartment companies, "When you invest in technology, you must ask: What return am I going to get? Are my goals aligned with what the technology partner is providing? When an owner/manager meets with a provider, the first comments should not sound like, "So, tell me a little bit about your products?"
By doing this, Themelis said the apartment company is building a strong foundation for their technology. "You need to take the time to explain your pain points to the supplier and let them know what your goals are for the product."
Find Yourself a Technologist
As software providers, Themelis said that what he consistently sees in the apartment industry is that apartment companies don't have technologists on staff.
"Owners and managers focus on building and maintaining their biggest assets – their properties," he said. "If you don't have a technologist on your staff, you need to find out the best way to spend your technology dollars, and to make sure that they will give you a competitive advantage."
Most importantly, he said, is that apartment companies need to be very clear about their pain points.
"Once that is understood, then, you can start asking about integration and implementation," he said. "If you aren't clear from the start, you'll never be able to truly assess the ROI. You need to understand what metrics you'll use to assess it; if you don't, it won't get you that competitive advantage you are investing for."
Identifying the ROI Formula
Themelis said every apartment community "is like a little city or a village. There is so much technology that can go into it to help it perform better. Every piece of technology you use will have a different formula to use to measure the ROI."
Getting back to the trade show, he said, "If you aren't clear when challenging the suppliers who you are working with, that becomes a recipe that doesn't end up well."
Insist that the suppliers can answer, "What leading metric is your technology impacting? In other words, "Through which 'output' metric produces the NOI?"
That improved NOI can lead to more profitable operations.
When asked to describe the "apartment of the future," Themelis said, "It's one where the operators leverage their most valuable asset (the property) through technology to improve their process and is most impactful as possible to their residents. They need to find the best way to implement it so that their staff members can focus more on taking better care of their residents."
Get more updates and leasing insights from Knock — subscribe to our newsletter!