Head Into the New Year with Our Best Content From 2021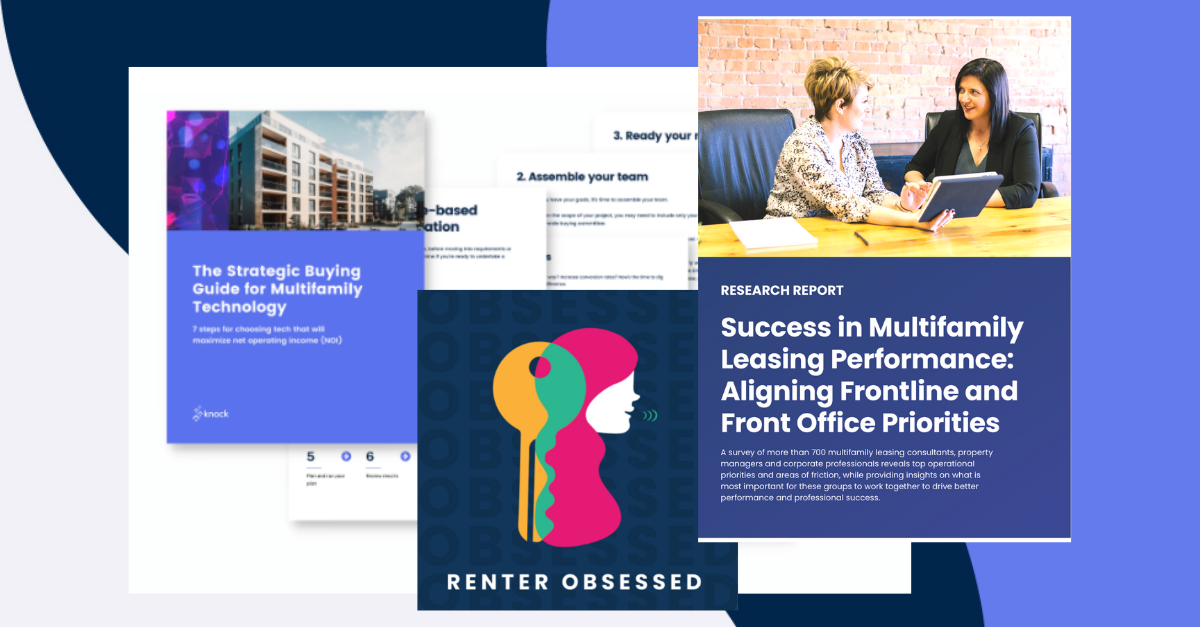 If you feel like time flew by particularly quickly this year, you aren't alone. So much happened that it can be tough to remember everything (how was Apartmentalize already four months ago?). That's why Knock® did the heavy lifting for you and rounded up our top content from 2021.
Start the new year off on the right foot with some of the best resources, blog posts, and more to get you on track to meet your 2022 multifamily goals.
Did you know that Knock launched its first podcast this year? Renter Obsessed is a bi-weekly, live podcast and Slack community for multifamily marketers who are looking to evolve with their customers. From turning your leasing teams into content creators to learning how marketing and recruiters can collaborate to increase employee retention, you'll get lively discussions and helpful multifamily insights.
Listen to the latest episode, and contact host Sydney Webber to join in on future conversations.
In 2020 and 2021, the needs of renters and customers shifted dramatically, and Knock responded. With agent-guided, self-guided, and live-video options, Knock Tours provides touring flexibility to match the needs of any prospective renter. It also combines a guest-card-integrated ID scanner, leasing agent workflows, and community content into an exceptional user experience for leasing teams.
Read more about Knock Tours.
After surveying more than 700 multifamily professionals, we released a comprehensive research report that addresses the top operational priorities, concerns, and disconnects among multifamily front office professionals, including renter experience, hiring and retention, and career growth. You'll learn the main challenges facing onsite and corporate teams, as well as the solutions needed to fix them.
Download the report:
When the pandemic hit, the need to work from home became a major factor for employers. Addressing that need, Knock's new Centralized Leasing Suite brings together cross-selling, browser calling, and intelligent guest cards to enable both remote and on-site agents. With the ability for agents to work from anywhere as well as refer prospects to other properties, you can keep high-quality leads within your portfolio before they start to look at competitors.
Learn more about Centralized Leasing.
Is your technology driving NOI for your multifamily portfolio? It should be. Otherwise, what's the point of using it? We put together a comprehensive guide to help you make value-based decisions for choosing tech that improves NOI. With free templates and resources, you'll learn if tech is driving NOI, the steps needed to evaluate tech partners, and how to write a business case to support your decision.
See you in 2022! We can't wait to share what we have in store.
❤️ Knock®