Perfecting the Multifamily Customer Experience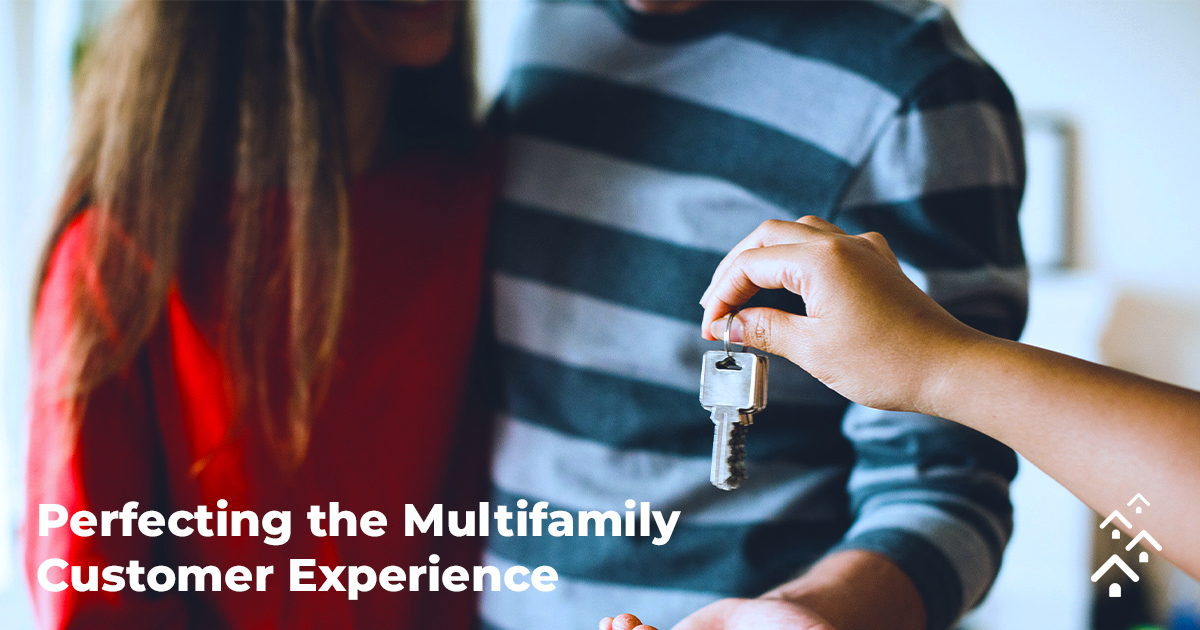 Personalized services, on-demand delivery, and one-click purchasing are changing the ways customers interact with brands and their expectations, but what do these experiences have in common? They put customer need at the center of the experience design with the goal of delivering premium, differentiated service.
As customers become increasingly more accustomed to the likes of Airbnb, Apple, Amazon, and Uber, brands across all industries including multifamily property management firms must make the customer experience a priority.
In the modern age of marketing, the customer's experience can be the difference between your lead becoming a new prospective tenant or remaining just a lead. Multifamily property managers need to stand up peak customer experiences to protect their brand and their bottom line.
What is customer experience?
Finding a place to call home is a big decision that has a massive impact on our lives. Not only is it one of the largest financial expense for most, but it is also our place of comfort in the world. Where we choose to live influences where we shop, what activities we enjoy, and what people we see regularly. This incredibly intimate decision should be matched by an equally as considered customer experience.
Delivering a differentiating customer experience starts in one place — with a deep understanding of the customer and their journey. What are the factors that may impact decision making? What are their motivations? What are their worries, hopes, and dreams as they move through that customer journey? What does success look like? What does failure look like? How can you assist them along the way? Only brands that commit to developing a deep understanding of their customers' journeys are able to take their customer experience to the next level.
Within the saturated market of multifamily, a number of brands have differentiated and set themselves apart from the noise by delivering peak customer experiences across channels. The brands they interact with are more responsive than they've ever been, learning more about customers with every interaction and optimizing to deliver even better experiences the next time. These interactions deliver premium care and value to the customer in a way that strengthens their relationship with your product and brand.
Why is customer experience the new standard?
Poor customer experiences come at a massive cost. Globally, poor customer experience costs companies $338.5 billion a year according to Forbes and nearing $100 billion in the U.S. alone. That's a lot of money being left on the table for something that could be addressed with mindful investments across your customer touchpoints.
On the other hand, strong customer experiences breed positive relationships with customers and encourages them to become brand advocates. An early report by DM News found a very high correlation between customer experience and customer loyalty. When comparing customer loyalty to companies scored with high customer experiences, their researcher says customers of those companies were ~20% more likely to recommend and buy their products. They were also less likely to switch to competitors.
With such a high cost of poor experience and so much benefit of delivering a peak customer experience, the customer-centric approach to experience design is quickly becoming the new standard across industries. Multifamily is no exception.
Pursuing a peak customer experience
Responsiveness, personalization, and proactivity set peak experiences apart from the rest. To stand up these experiences, all you need is technology and care for your customers. Here's how you can deliver peak property management experiences that will protect your brand and turn your leads into new residents; and your current residents into renewals:
Design your experiences with your customers at the center
When designing your customer experience, consider what's happening in the lives of your prospective tenants and what they may be facing as they're searching for a property. They may be experiencing a life change like marriage or welcoming a new child. They may be moving to a new city with limited time to choose a new home. They may even be coming out of a poor property manager experience. Empathy is key. How can you provide the information they need to prioritize your property in their search for a new home?
Your prospective tenants want to know everything about you, and you should want to know everything about them. Take customer inquiries as an opportunity to learn more about your prospects. Consider adding contextual questions like, "What brings you to the neighborhood?" to any information request forms or holding focus groups with current tenants to learn more about what brought them to your property. This context can trigger the insight you'll need to better align your services with your prospects, their expectations, and needs.
Automate with purpose
Cultivating new customer relationships takes time and attentiveness, but without that attention and care, leads and prospective tenants can fall through the cracks. Automation helps you provide the responsiveness they expect while making the management of those relationships easier. But don't automate for automation's sake.
As you map out your customer journey, be mindful and attentive to endpoints along the journey for the customer, both positive and negative. Has it been a few days since a recent lead hinted at sending in their application? Your CRM should automatically notify you of follow-ups or cold prospects — allowing you to nudge your lead into submitting their application. Have a new tenant moving in? Set up triggers to deliver "Move-In Day" communications ahead of their move-in date. Automate with intent for the moments that matter.
Be personable
Automation can improve engagement, but there is no substitute for a personal touch. One of the things that makes services like Airbnb and Uber so popular is the personability of their experiences. Riders that have booked a trip on Uber are regularly treated to refreshments, snacks, phone chargers, and even are allowed to play their own music as they travel to their next destination. Each of these address common problems that customers experience during their trips, and delights them when they can unexpectedly solve them.
Property management companies should have the same goal when engaging with prospects. Offer prospects water or coffee when they arrive. If you see they have a dog, invite the prospect to bring the pooch and have a treat ready. When a customer moves in, have a welcome packet with information about the community, neighborhood, and a handwritten welcome note. All of these little gestures cost very little, but the thought put into it may be the difference between a new resident or lost lead.
Measure satisfaction and optimize
Optimization is crucial to standing up a peak customer experience, but how can you know where to improve if you don't know where your gaps are? How can you know what you do well if you don't capture that information? Be sure to place satisfaction surveys at key points in your engagements with leads and prospective tenants. It's important to know what about your new tenant's experience drove them to become residents at your property, and for the folks who opted out, it's key to know what turned them away.
This information will allow you to identify the best moments in your customer journey and the pain points so you can continue to deliver the best of your experience and fill the gaps where needed.
Conclusion

In an oversaturated market of quality brands and communities, an intentionally curated customer experience can be the difference between your lead signing that lease or moving on to a competitor's property. Automation should never be a crutch to supplement for poor human interactions, but rather a strategy used to alleviate mundane tasks and to allow your leasing team to do what they do best.