Start driving meaningful value through multifamily technology and automation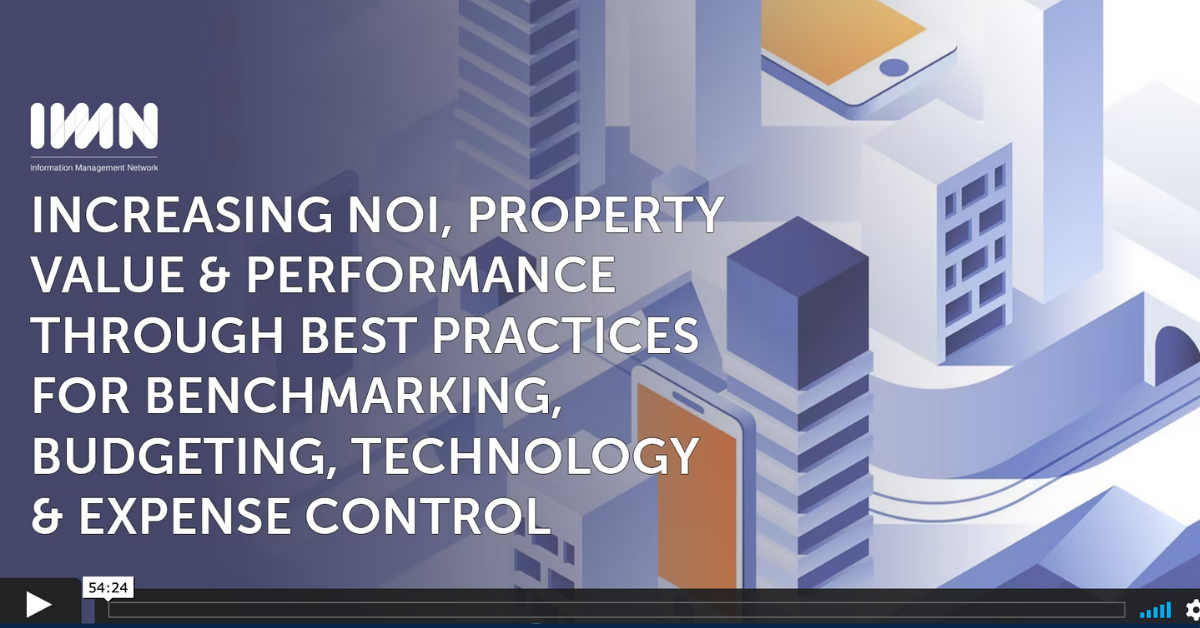 Knock's Lisa Tufano shared her insights about multifamily tech and its ROI at the IMN Multifamily Forum.
By: Paul Bergeron
Savvy, forward-thinking apartment operators are embracing technology to increase their net operating income (NOI) as they work their way through COVID-19 and economic challenges.
Innovation acceleration driven by the industry's leading software companies such as Knock is enabling them to recognize needs and identify solutions through tools developed to better performance.
Knock's Vice President, Strategic Accounts, Lisa Tufano, is out in front in presenting today's benefits. Her company focuses on improving leasing performance and increasing NOI, and also provides a path to more valuable data that can drive successful decision-making in all things operational.
Tufano says there's never been a better time to call on technology to help companies survive the uncertain times companies of all sizes are are facing.
"The long-term effects of COVID-19 haven't fully hit apartment industry operations," Tufano says. "Vacancies are expected to peak in 2020 and rents will decline is Q1. There's plenty of optimism beyond that, but it's still unknown."
"Unfortunately, the pandemic struck during a really inopportune time for our industry. It happened right as we were entering the busy leasing season. It took everybody by surprise, and property managers were suddenly forced to begin assessing and scrutinizing costs, reallocating budgets and adopting new technology that would help to keep employees, prospects and current residents safe as we weathered this together."
Initially, Tufano says, operators figured a lot of these quick operational adjustments such as virtual and self-guided tours with Zoom and FaceTime and having their management teams working from home would be a short-term fix. And that they would simply be put in place until things returned to normal. "But there may not be a 'back to normal,' " she says now.
"We're going to see a new normal. And all of this will lead to innovation and modernization as we approach sales in the multifamily industry. The industry has known for a long time that it had to better address the needs and wants of modern consumers. We're going to have to accelerate those timelines now, and take a look at our tech stacks to really see if they are able to stand the test of time, and carry us through 2021 as we address the residual effects of this persisting pandemic."
How to Evaluate Multifamily Technology Partners
Successful apartment owners and managers understand that any problem can be solved now and for the future by building software, she says. "But you really have to identify what problems you're trying to solve, and what your true goals are. And then, you need to ensure the technology you're buying and stacking together aligns with those goals," Tufano says.
Tufano shares these overarching points for companies that are evaluating technology partners.
Does it drive down your cost per lead?
Does it improve leasing team performance? For example, Knock's clients that benchmarked their lead-to-lease conversion rates at 5,000-unit communities over the past 12 months are seeing increases in conversion by 20 percent: That translates to an additional $800,000 to the bottom line.
There, now that I have your attention. Also consider:
Does it increase team efficiency?
Does it replace other tools you are using?
Always tie back your technology to ROI, she adds. "If we're looking at how productivity can specifically translate into NOI, it's important to find solutions that can complete tasks on your behalf," Tufano says. "For example, are you using solutions that can prequalify your traffic? And that can identify or fast-track your hottest leads to a tour – without ever having to interface with a leasing agent or a call center?
Automation Leading the Way
Automation is leading the way, but "it's really critical to get automation right. There's a lot of automation (through artificial intelligence – or AI) available in the marketplace. Knock brought a lot of it to market ourselves," Tufano says.
"You should take advantage of that automation, so you can free up time for your leasing team to address existing residents or so they have time to build trust and nurture prospects who may require a little extra hand-holding in the buying process."
Knock's automation can do a lot of the heavy lifting in terms of traditional sales engagement, she says, providing self-service tools that will improve prospects' touring and leasing events.
"As a result, it speeds the sales journey for them and for your residents," Tufano says. "And, I mention residents because a lot of available CRM technology doesn't really address resident renewals and retention in a meaningful way. Ours does, because we recognize over half of an operator's revenue comes from renewals. So, that's a pretty critical area to optimize."
Another option would be to hire some of the industry's very skilled marketing consultants, Tufano says, "But, if you don't have the extra budget to support it, then being able to rely on your CRM stack instead would be a solid alternative."
Chatbots Are Good Starting Place
With that, companies first looking to add automation to their operations processes should start with chatbots, Tufano recommends.
"This way, prospects are not having to deal with call centers or central offices," she says. "Chatbots can be incorporated without any huge expense needed to redesign your website and can help you to capture the low-hanging fruit."
Chatbots are a form of AI that can take away some of leasing team members' burden, and can lead to a modern and more frictionless experience for prospects. "We're seeing more companies looking to centralize these functions," she says.
CRM and AI have been given a lot of attention lately. With so much remote work going on, automation is critical to maintaining operational continuity.
Automation can eliminate many of the manual entry processes that onsite staff might typically do, but also are the cause of the unclean data in the first place.
There are plenty of studies that show the more condensed a company's customer response frame is the better the sales outcomes will be, such as leasing an apartment.
Automation can help teams to identify and then perform their renewals and turns faster, so that leasing professionals can then focus on "on-notice" units.
"We've got to start driving meaningful value through technology. We're all going to have to be a lot more reflective."
Operational Efficiency for Multifamily Operations
Technology's ease of use is top of mind for many owners and managers. Another high priority is addressing the lack of confidence they have in their existing data made available through their technology.
"They really want clean data that they can take action upon," Tufano says. "Operators are finding that measuring the NOI their technology provides is an enormous task. On the operations side, you hear conflicting reports about the truth in the data and how one report from one place says one thing, and the same report from someplace different says something else. And it's difficult, because some of Knock's audience are third-party managers who are dealing with asset managers and owners who question the data, and that puts them in an awkward position."
Data assessment plays a key role in measuring success and with identifying what needs extra attention. Technology should ultimately help property managers make data-driven decisions to ensure communities are optimizing NOI.
"Unfortunately for many, when looking at their data, that assurance is lacking," she says. "Being able to measure where you are today and where you'd like to be is crucial. And whether you partner with Knock or not, being able to really drill down and understand those metrics are critical to your success long term."
Catching Up to Technology
Tufano is excited to see the attention that now being paid to technology in general in the apartment industry.
"People are always making self-deprecating comments about how multifamily is so slow to adopt new technology," she says. "And, again – this has been a very challenging time for everyone – but one silver lining is that it has really given us an opportunity to peel back the layers of what we've got going on, and figure out – hopefully using really good data – what the best path forward is together.
"And that can only be good. That will continue to drive innovation. That will continue to improve the way we engage with renters and our existing residents, and deliver a better product overall as an industry for people who are trying to find a home."
Even still, Tufano says many operators are still catching up to the technology that's available today.
"Even before the pandemic hit, we were behind," she says. "It's more essential than ever to spend more time carefully onboarding new tools. But before you even onboard them, you've got to vet them. And, I think there is room for improvement there as well."