(Case Study) Envolve Leverages Knock to Save Time and Bring Efficiency to Their Affordable Portfolio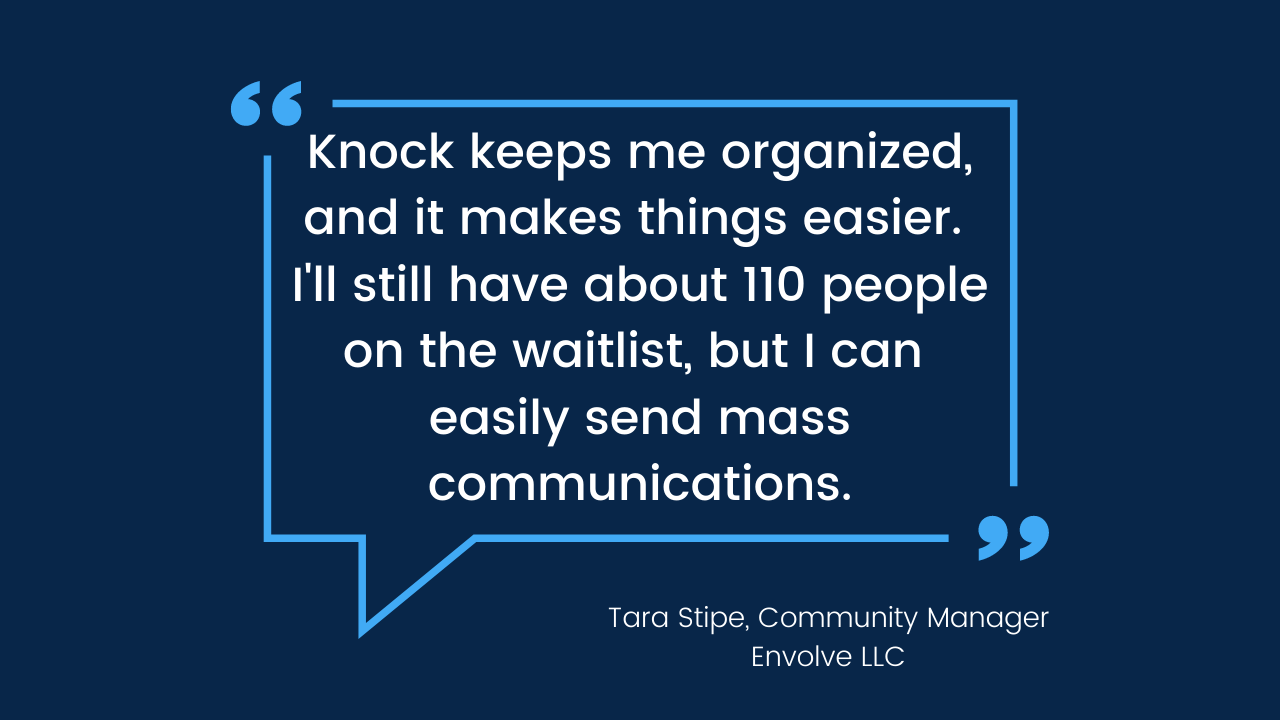 A common challenge for property management companies with affordable housing communities as part of a more diversified portfolio is finding software that works with every type of asset. As a result, affordable housing often gets left in the (tech) dust.
"With affordable housing, there is often a worry about the bottom line, so there is less room to go, 'We need to add this, this is going to increase resident satisfaction, or it's going to make things to where there is more openness,'" says Tara Stipe, Multi-Site Community Manager at Envolve LLC, which has 33,000 affordable properties in their portfolio.
Additional challenges include a long waitlist of applicants. "I had people throughout the day calling trying to verify where they were on the waitlist because there was no way to communicate that with them," says Stipe.
That led Envolve to look for a tech solution that could be flexible enough for their entire portfolio — including affordable — to provide prospects and residents a high-quality experience.
Approach: Use waitlist management and mass messaging to take time off teams' plates
Through Knock, Envolve enhanced their current processes, by gaining the ability to create and manage waitlists, mass message prospects and residents, and pre-qualify applicants through the Knockbot feature.
"For me, the biggest thing is that Knock keeps me organized, and it makes things easier," says Stipe. "Organization is essential. Every property wants to make sure that they're organized, but Knock does it for you without you having to try. Now, I'll still have about 110 people on the waitlist, but I can easily send mass communications every three, four months."
Results: "An hour or two" of work saved every day
Thanks to Knock, Envolve was able to expertly manage their waitlist — while giving leasing teams back more hours in their day. In particular, Stipe lauds Knock's mass communication features to keep people on the waitlist updated without adding hours of email drafting to her teams' workload.
Furthermore, Knock has helped Envolve's affordable properties with compliance. "If you give a direct price over the phone, you have to follow that up with an email and a quote sheet," Stipe explains. Her management teams then go into Knock and listen to call recordings and see what email communications have happened with prospects, so they can know firsthand if their leasing teams are giving the correct information — and what specific training needs to occur if they are not.
"When I share this with people they say, 'Hey, how'd you do that?' I say, 'Knock.'