(Case Study) Flournoy Properties Group optimizes ad spend and team performance with Knock's best-in-class analytics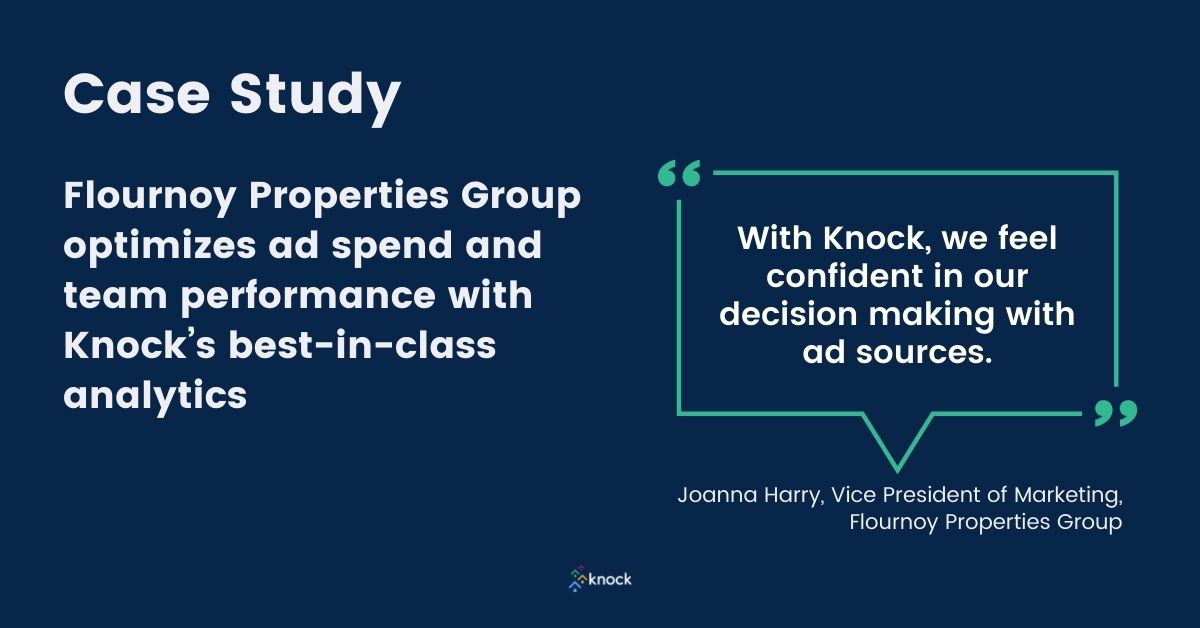 With more than 5,200 units under management, and goals to continue expanding their portfolio in the near future, Flournoy Properties Group was making major business decisions every day — but lacked the correct data to solidify those decisions.
"We didn't have a CRM at all prior to Knock®, so we were having to manually enter any leads that came in via email," explains Joanna Harry, vice president of marketing. Similarly, "we were also tracking our sources, but a lot of that relied on the leasing agent to select the correct ad source."
That left room for human error.
With so many manually entered leads, Flournoy not only faced the prospect of potentially missed leads — they were also using unreliable data that stemmed from those entries. And as the only data source for leads, this human-generated attribution was the only thing Harry's team could go on when making business decisions. "That's the data that we had, but we were never fully confident that it was accurate," Harry says.
Particularly in regards to lease-ups, Harry and her team could make educated guesses as to why quality leads didn't convert to leases, but without the data to back them up, they struggled to present their findings to the rest of Flournoy leadership. "We would know we have a pricing problem, but you can't just all of a sudden say, 'We're going to lower rent,'" says Harry. "We have certain standards to meet and owners who are expecting solid evidence."
Looking to future plans to continue expanding their portfolio, Flournoy saw its teams weren't getting the analytics reporting they needed to support decisions.
Correct lead attribution and clear prospect insights
With Knock, leads were instantly added to Flournoy's automated dashboard as soon as they contacted the company — ensuring that no leads or follow-ups were missed and that all potential sources could be attributed.
By digging into Knock's Ad Spend Report, Harry was also able to measure the performance of each lead source, an important feature, since tactics that might work for a property in one market might not be as effective in another.
And to ensure they were getting accurate data regarding missed leasing opportunities, Flournoy looked at Knock's Loss Reasons Report, which helps teams understand why prospects are not choosing to rent at certain properties as well as how to address those issues.
"The properties that we're really using it for right now are our lease-up properties," says Harry. "Sometimes we may see a lot of traffic and few or no leases, so we can really dive into why people are not leasing, and change our strategy accordingly."
After seeing the reasons why prospects decide not to lease in the Loss Reasons Report, Harry and her team use Knock to address the issue, starting with checking in on leasing agent performance. "If there's a property that's underperforming, we'll look at the traffic and dive into our agents' follow-ups," says Harry. "Are they asking the right questions, is there room for improvement in their delivery?"
Knock's automation and analytics for multifamily have been " a game-changer"
"For our teams, Knock has been a game-changer," says Harry. "Now they have leads automatically go into something for us to be able to track them and see where they're coming from." In fact, since Flournoy rolled out Knock in March 2021, teams have maintained consistently high engagement scores.
Armed with accurate data and reporting, Flournoy is no longer missing or misattributing any leads. "Now we trust the traffic and leasing numbers coming in from each source, and we can drill down into each one," says Harry.
They've also made active changes to their marketing strategy, including reallocating spend from low-performing to high-performing channels. "I can see who's not a good source for us; we've made a lot of cuts based on that," she says. For example, at one of Flournoy's Texas properties, Harry's team made the decision to drop a major ILS completely and move that budget to other channels.
With the Loss Reasons Report, "It confirms what we already know, and it's great to show the decision-makers evidence as to why people aren't leasing," Harry says. "It helps to present more evidence, lobbying for a change."
With help from the Ad Spend and Loss Reasons reports, Flournoy outperformed their benchmarks, compared to similar property management companies: Employees' average engagement score went up 9%, response times decreased 4%, and visit-to-lease increased 9%. More so, Flournoy has been able to use these benchmarks to secure more third-party business, a crucial part of their growth plan.
"The data we have is pretty thorough," says Harry. "I love that pretty much any metric you're looking at, you can click on it and dig further and further. Trusting that data is big."
—
Download our case studies to learn more about how Flournoy Properties Group leveraged Knock's Ad Spend and Loss Reasons reports.