CEO Demetri Themelis Talks the Future of Customer Experience in Multifamily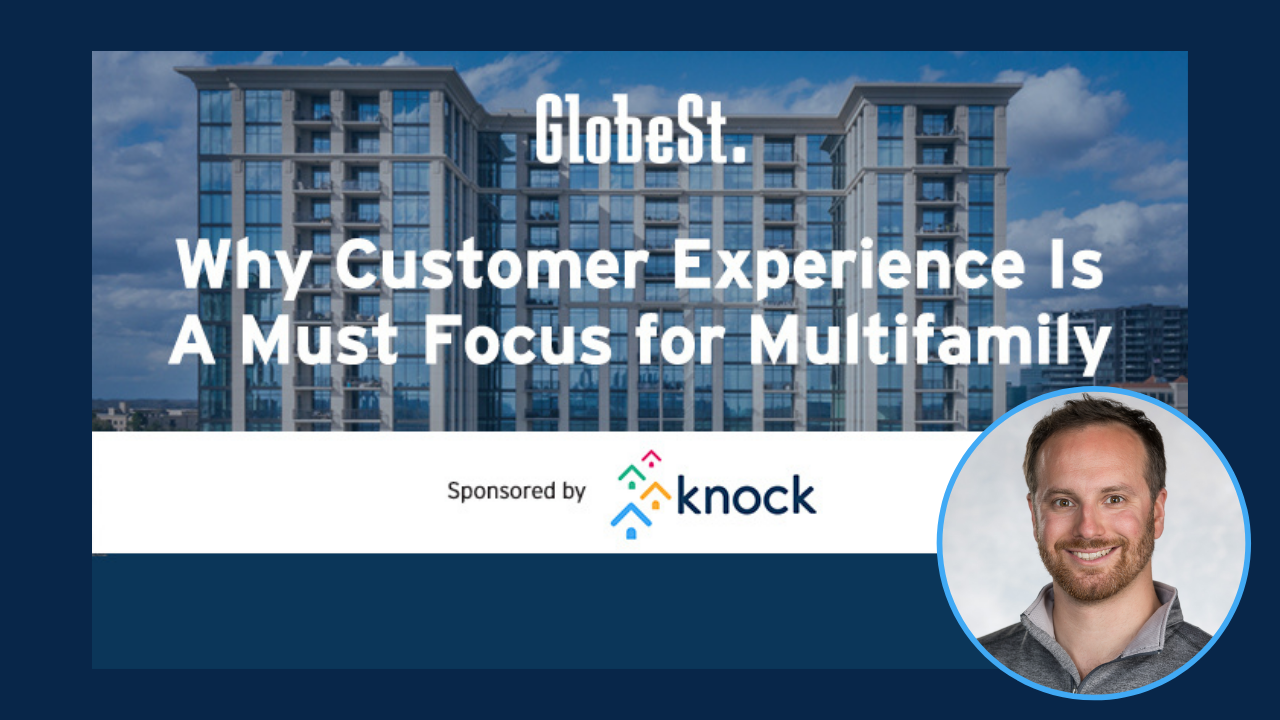 If you work in multifamily marketing and aren't already using personalization as a way to improve customer experience, you're behind the times. (For a refresher on how personalization is what today's consumer expects, check out our blog post breaking it down.)
As explained in CMSWire, "The interest in personalization to drive customer experience and sales continues as strong as ever," with a whopping 97 percent of marketers "significantly increasing their personalization efforts in 2020."
Even more worrisome, the Marketing AI Institute reports that "a full 45% of customers surveyed by Twilio said they would take their business elsewhere if a company failed to provide a personalized experience."
So what can your property management company do to stay ahead of the pack?
Knock CEO and co-founder Demetri Themelis discussed his ideas on the future of personalization on Globe St.'s podcast, including the three trends he believes multifamily needs stay on top of the customer experience game.
Harness the power of AI.
First, companies should consider leveraging artificial intelligence (AI). AI-powered insights can help front office teams manage the entire pipeline, improve onsite accountability, and increase conversions across the funnel. With clear data-driven insights, managers can spend more time empowering onsite team performance in key areas like renewals.
AI-powered software can also accurately compile statistics on the daily happenings of an area, including the frequency of local bus routes, reviews and ratings of local schools, and even the amount of sunlight hours the property gets in a month.
In particular, Themelis encourages property management companies to think how AI can impact their communications: "Phone calls, texts, emails, chats — how can AI be incorporated into those channels to provide a better customer experience?"
Use centralized leasing for a consistent customer experience.
Second, Themelis says that moving toward a more centralized leasing model can help ensure that the personalized experience your teams worked hard to create is deployed across your entire portfolio.
"Think about centralizing leasing efforts — efforts to centralize sales into an internal call center or customer service center that's supporting assets in many different locations — and using that to be more efficient and provide a more consistent experience," he says.
For example, Knock's Centralized Leasing Suite enables leasing agents to seamlessly refer prospects and share guestcard with other properties in the same portfolio, so a prospect's notes stay with them throughout the leasing journey. Additionally, Knock allows teams to tailor sister property referrals based on prospects' preferences.
Let prospects choose their own path with flexible touring options.
"The third thing is enabling multiple tour types," Themelis says. "Especially in the last couple of years, when the desire for an in-person, assisted tour has really changed with regards to customer behavior, it's becoming increasingly important for operators to offer multiple tour types."
In addition to delivering on renter experience, hybrid tour models deliver more leases and are correlated with higher conversion rates. Knock's data science team analyzed 2 million tours from the summer of 2021 (leasing season). We found that prospective renters who used multiple touring options were more than 2x more likely to convert.
Virtual, video, self-guided, in-person — your property management company should offer it all to meet customers' varying needs. Look for a platform like Knock Tours, which enables property operators to easily adopt a flexible touring model.
Listen to the full conversation over at Globe St.
What else do you think should be in the future of customer experience? Let us know on LinkedIn!