Knock Star Views: How to Build a Strategic Multifamily Tech Stack in 7 Steps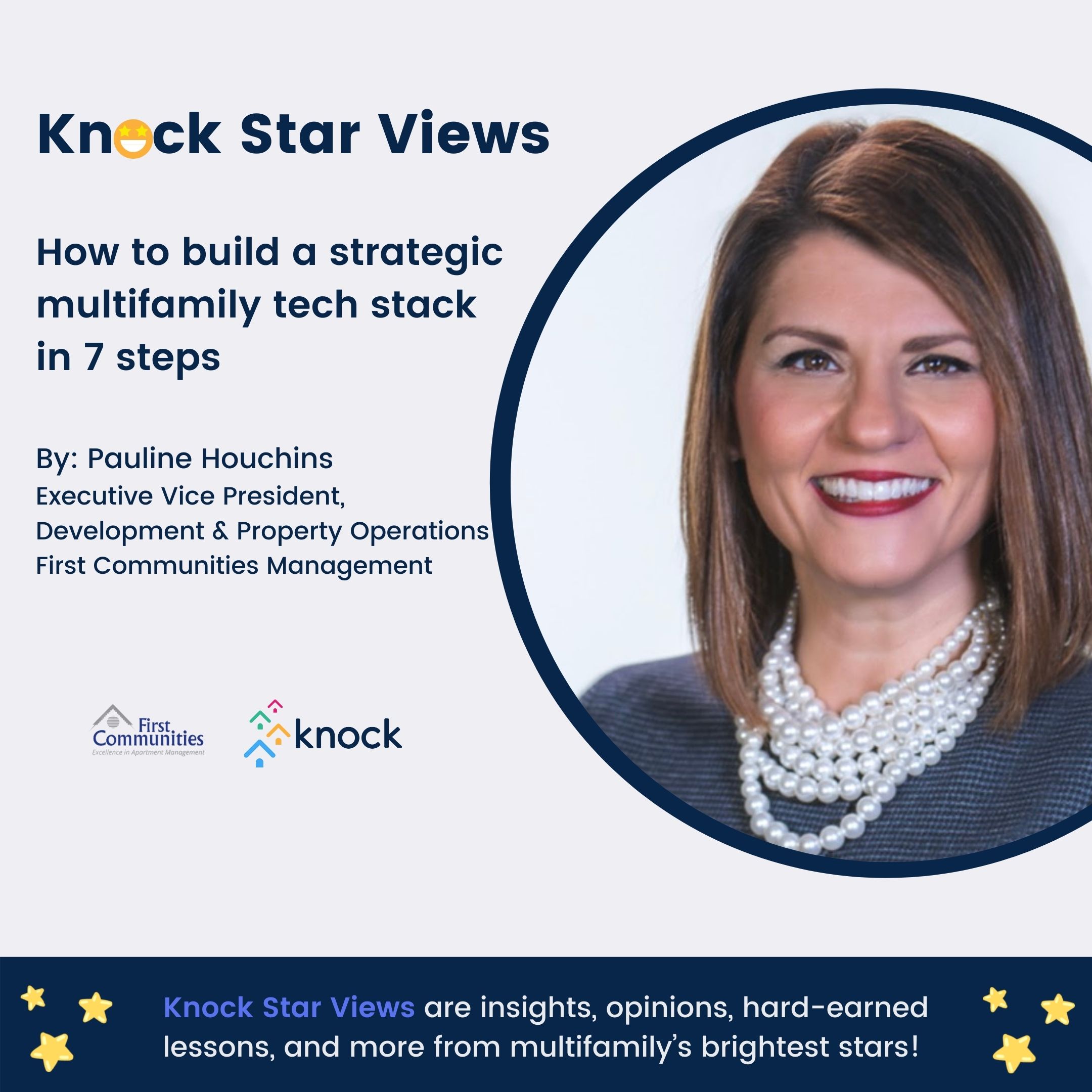 By: Pauline Houchins, Executive Vice President of Development and Property Operations at First Communities Management
While there may be seemingly endless options for building the tech stacks or investing in many complex solutions, a flexible technology stack (tech stack) has become the linchpin required to maintain business continuity and meet shifting performance demands.
Speaking recently at the Multifamily Innovation Conference – Atlanta (MICA), I discussed the thought process used to strategically build a tech stack.
We are a fee-managed company with 65,000 apartment homes. Our growth tech stack has the innovative technology of Knock at its foundation.
1. Determine the Right Kind of Tech Stack
A tech stack is a set of tools that works together to achieve a goal. A growth stack is a flexible stack that includes different components such as a CRM platform and is open to integration with other tech solutions so that it can help its users focus on growth and performance.
A full-stack (aka single stack) is a platform that serves as an all-in-one system. A point solution is not a tech stack, but a tool with one specific functionality, such as a chatbot or resident ID screening tool.
Strategic technology investment should be transparent, productive, cost-effective and valuable. It shouldn't be created in a silo, or be rigid, reactive, and fragmented. It shouldn't become a point of pain. It should be a strategic part of your operations – the framework of our business used to make revenue decisions. We achieve this with a growth stack.
2. Outline Considerations Used to Form the Decision
We consider many factors when deciding about which technology and technology partner to use.
First look at the integration (Is it compatible with your existing platform?)
Then, check out the interface (Is it user-friendly and intuitive?)
Next, learn what data analytics it can provide (Are the data easy to digest? Can the data be regurgitated so that all groups in our company can use it?)
Then there's pricing (Can we justify the cost for what we assume we're going to get out of the product?)
3. Choose the Best Blend of Partners
We use a blended approach, choosing several supplier partners, because having competition breeds innovation. Using different providers gives us different information. If you are only trusting one source, it could be tainted. That doesn't mean it's a bad thing, but having variable sources is more valuable.
4. Use Established Core Goals to Base Your Decision
Your goals should be your North Star. Determining and following your company's core goals is an important step that leads to success when choosing technology partners.
At First Communities, we look for value-driven and results-driven platforms that improve efficiency and deliver data on specifics such as lease conversions.
We ask ourselves:
Will choosing this tech be exchanged for some kind of revenue that we're going to see?
Is our solution helping us to reach our goals?
If not, we look to make changes to our tech stack.
5. Share KPIs With Prospective Tech Partners
To find a platform that is aligned with our goals, we share our KPIs with prospective vendors.
Once you do, be leery of technology companies that come back and say, 'We can help you with all of this.' " Because when you stop and look at it, maybe they can only meet 10 percent of our needs, so that's not an alignment.
6. Test the Product, Get Buy-In
Choosing technology is a big decision. You have to ease into it with proper training and achieve buy-in from your staff.
One time, we found a technology solution that we thought was "amazing," but after implementing it, the management team was puzzled when it did not receive much feedback from onsite staff. It came down to us not properly 'ramping it up' internally and with enthusiasm during the training period.
We now test the product for 60 to 90 days. Regardless of how wonderful the product is, if you don't know how to use it, you've wasted a lot of time and money.
7. Applaud Your Success
If you give customers a great experience, it creates a great word of mouth effect. Renters will be happy and it creates a repeatable cycle. You get better resident renewals, and renewals are the linchpin to success; after all, 50 percent of your revenue is already living in your property.
Finally, if Covid-19 taught us anything, it's that we can adapt to anything technology-wise. We can use tech to keep our residents happy and want to stay.
🤩 We are thrilled to have Pauline as our first Knock Star guest author! Stay tuned for more multifamily stars sharing their insights, opinions, hard-earned lessons, and industry expertise.