Knock Star Views: Providing Excellent Customer Service in Affordable is Possible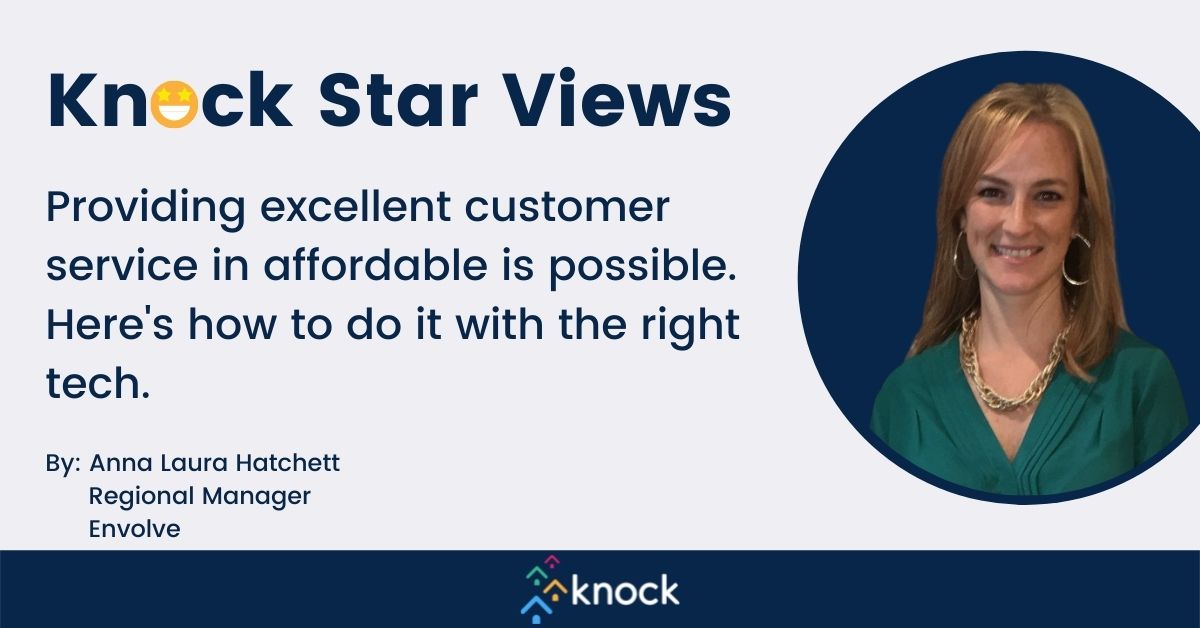 By: Anna Laura Hatchett, Regional Manager at Envolve LLC
As one of the largest affordable property management companies in the country, with over 37,000 units under management, Envolve considers our teams to be experts in managing multifamily properties, from Class A lease-up to affordable.
We are committed to building and creating communities for residents to enjoy and call home — no detail is too small when it comes to respecting residents and fostering desirable communities in which they can live and grow. So when we look at adopting new technology, we need to ensure it is operational at both affordable and market-rate properties.
Our results? Property management companies can exceed customer expectations in affordable housing — through innovation and tech more traditionally associated with market-rate housing.
Here's how we leverage the right tech to create high-quality experiences in affordable.
Why focus on strategic innovation?
The pandemic brought myriad changes to the multifamily industry, one of the largest being the shift to virtual experiences. Today, renters expect you to offer virtual tours. They also expect your leasing offices to stay open during regular hours and for us to answer emails and the phone while we work from home. (I love that with Knock, our offices never truly "close.")
Because of this, things are shifting in the search process. Prospects from out-of-town now want to tour without ever stepping foot inside our properties in Memphis, and they are just as serious about finding their next home as prospects who visit in person.
We also focus on using technology to build relationships — and building relationships is being done differently in 2021. Due to COVID-19, there won't be handshakes for a while. Hopefully, in 2022 we'll be able to have more in-person engagement, but until then, we'll need to meet prospects' expectations where they're at.
Vetting technology for a diverse portfolio
Because of the diverse asset types we have, finding the right technology is not a one-size-fits-all approach, and we make sure that we vet tech for each asset.
To help ensure that we're property vetting tech for each asset — and to give multiple teams a voice in the vetting process — we started the Envolve Innovation Committee, which I chair. Through the committee, we combine the opinions of my colleagues from all levels when vetting tech options. We spend about two months researching aspects of technology and innovation from an operations standpoint.
For a recent example, we were looking for a CRM platform until we found Knock. I wanted something that ensured we wouldn't miss calls from leads, that we were following up properly, and that we could mass email people on our waitlists for our affordable properties. After a thorough vetting process, we rolled out Knock and other tech for affordable communities to stellar results.
Don't lose sight of your company's values and goals
No matter how advanced the technology may be, it's important to make sure it fits in with your company's vision. At Envolve, we work to not lose sight of the basics: That onsite teams are investing in building strong relationships with our residents. It's easy to get distracted by the bells and whistles many tools come with, but you need to stay focused on what truly makes your organization successful — and for us, it's maintaining high-quality relationships with prospects and residents. Technology can do great things, but I think it always comes back to whether we're following our core values as well.
We also work to ensure that we address the needs of our owners, our residents, and — especially for affordable — our budgets. Making owners happy and bringing conveniences to the residents is the perfect balancing act, and combining the two is a win-win.
🤩 Stay tuned for more multifamily stars sharing their insights, opinions, hard-earned lessons, and industry expertise.
Want insights like this delivered straight to your inbox? Sign up for the Knock newsletter.