(Case Study) Integrations, Insights, Impact: How GoldOller Modernized Leasing Operations with Knock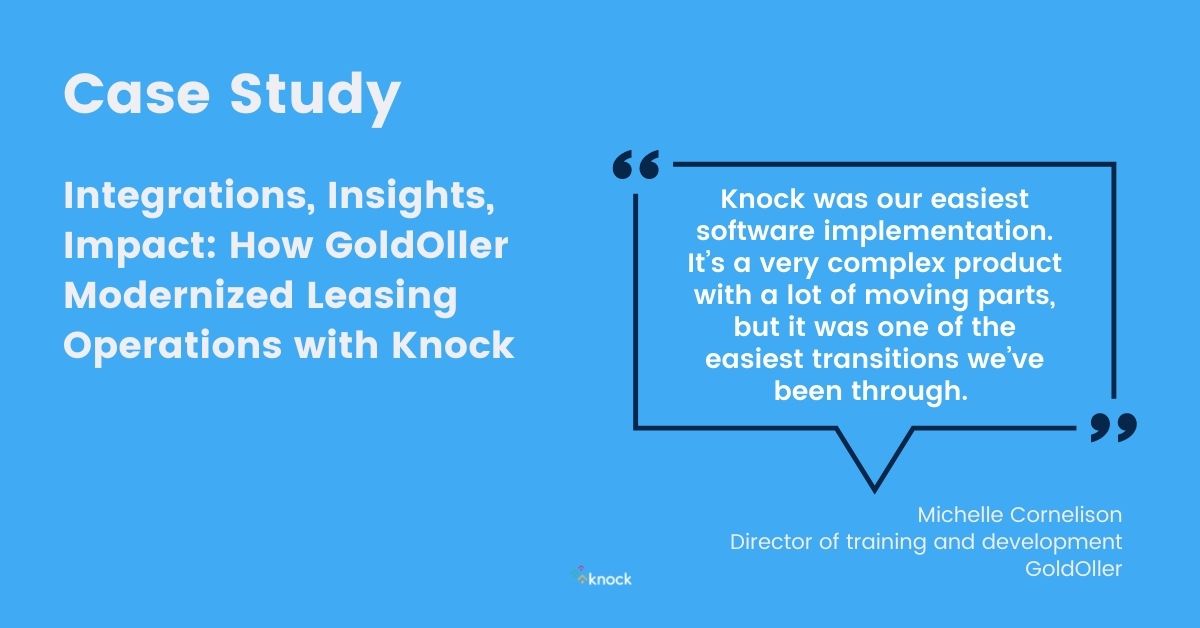 With more than 16,000 units under management, Philadelphia-based GoldOller crosses their T's and dots their I's when it comes to vetting new tools. "We use software to the fullest," shares Michelle Cornelison, director of training and development.
Cornelison, who has been with the company since its founding in 2011, is a major driver behind that ethos. She has more than two decades of experience in the multifamily industry, many of which were spent developing training programs and training employees directly.
So after spending 18 months working on a rollout of a new CRM, Cornelison and her team were frustrated when integrations weren't working.
"Software is there to make your life easier; it's there for you to take advantage of the analytics, reports, and information it gives back to you," she says.
Instead, there were major reporting and tracking problems.
Cornelison knew it was time for a change. GoldOller had previously spoken with Knock years prior, when the CRM company's features were still being developed. Now, the Knock CRM platform met — and exceeded — GoldOller's expectations for what CRM software could do, and they decided to make the switch.
Making the switch to Knock CRM
That decision was quickly confirmed as the right one to make. Once GoldOller rolled out Knock to their portfolio, "everything was so seamless," shares Lisa Moore, manager of training and team development.
"Knock was our easiest software implementation," adds Cornelison. "It's a very complex product with a lot of moving parts, but it was one of the easiest transitions we've been through."
In addition, GoldOller's onsite teams were thrilled with the rollout. "Liz Sweat, our training specialist and community manager, called me and said, 'I feel like I'm hardly even emailing you about the CRM' — a really good thing," says Cornelison.
As this was during the pandemic, GoldOller was also interested in Knock's virtual and self-guided tour options as a way to continue connecting with prospects during shutdowns. "We were able to move and take tiny steps to open up a bit," explains Cornelison. "We could still get information out to people looking for apartments, and all that traffic flowed through Knock."
Real results and a lasting partnership
GoldOller's onsite teams saw the difference with Knock immediately. "What sticks out to me was the overwhelming response that we got from our teams right off the bat saying, 'Thank you so much for changing [to Knock]. This is so much better,'" Cornelison shares.
And with such an easy integration, the team found themselves with more time to dedicate elsewhere, along with real trust in the data itself: Not only did Knock offer fast-on-their-feet CRM features, they also proved the effectiveness of in-your-face metrics. Now, GoldOller is finally getting the data they need to make business-critical decisions. "[Knock] has given me time back, and it's given us trust back in our leasing numbers, traffic numbers, and conversion ratios," says Cornelison.
Specifically, Knock's best-in-class business intelligence — including the Engagement Score, which measures employees' interactions with prospects — helped GoldOller improve leasing team performance. "We have confidence through the Engagement Score that people are engaging with customers the way we want them to," says Cornelison.
The performance data also allowed GoldOller's teams to zero-in on specific areas of improvement. "Once we got into Knock, we were able to start publishing our missed call percentages, and really start blasting that out to our properties," Cornelison states. "We'd send out Knock metrics every Monday, and we watched those missed call percentages drop and drop, and drop."
Furthermore, Knock has helped GoldOller increase and analyze their web traffic. "We have seen an increase in traffic numbers month over month, and better analytics on where that traffic is coming from because of dynamic tracking," says Cornelison. "We've never had that level of confidence in where our traffic is coming from."
And thanks to Knock's self-guided and virtual tours, GoldOller actually saw record leasing months during the pandemic — increasing their bottom line. Looking to the future, GoldOller plans to continue offering these touring options in order to capture as many high-quality leads as possible.
As the company plans to expand their portfolio, GoldOller has full confidence in Knock's ability to integrate and provide value. "[Knock] is very open to growing together, including features and enhancements that will make our lives easier," says Cornelison. "It's really valuable to be partnered with someone where you feel like your input is going somewhere."