Self-Guided Apartment Tours: Everything You Need To Know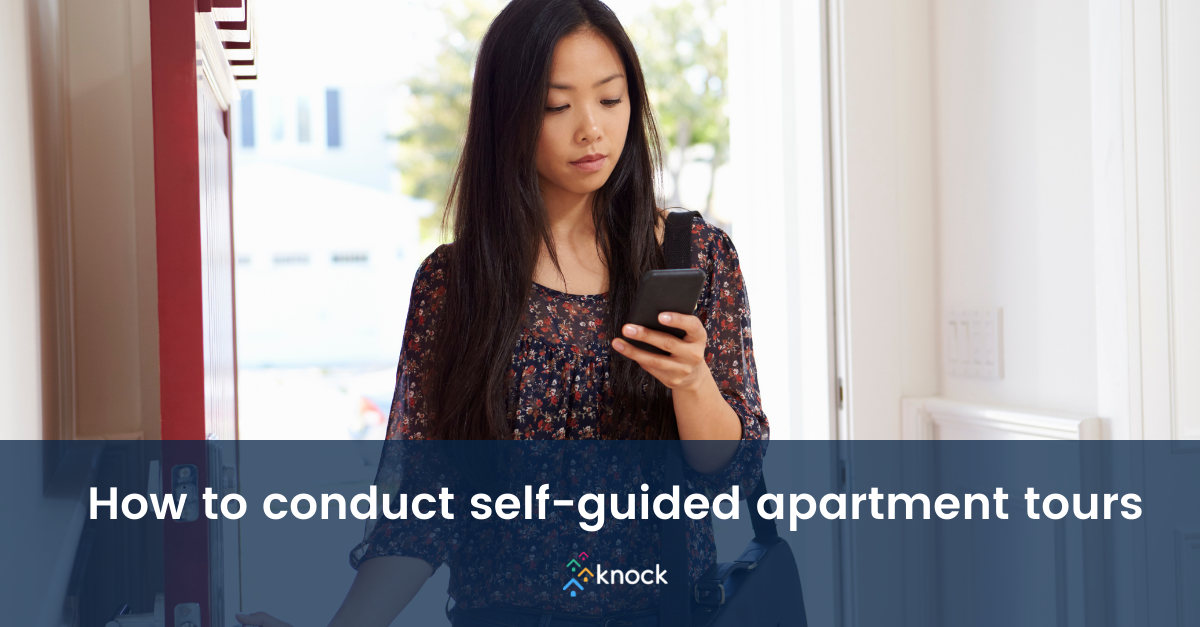 Self-guided tours have existed in some form for many years. The recent challenges brought by the pandemic have made this touring option more popular than ever among multifamily property managers, with many companies testing them and finding them to be successful options worth offering to prospective residents. (And unlike Tiger King, they're likely to stick around for the long-term.)
What are self-guided tours?
Self-guided tours are tours that allow prospective renters to scan their IDs and follow a prospect-facing self-guided workflow that allows prospective renters to see and follow sitemaps on their mobile device, and access their own landing pages for their upcoming tours.
Self-guided tours provide prospects with the opportunity to schedule a time that works best for them, while also freeing up your leasing team to pursue other leads. Often this is the prospect's first interaction with the leasing office, so it's vital to create an easy-to-use scheduling system to exceed customer expectations.
For renters who prefer the self-serve approach, self-guided apartment tours epitomize a contactless experience, if that's what they want. With the majority of prospects looking for self-service technology, self-guided tours also give prospective renters the opportunity to self-schedule a tour at a time that works best for them and to tour at their own pace.
What are the benefits of self-guided tours for property managers?
For property managers, self-guided tours allow teams to continue onsite tours while mitigating health risks and staying compliant with changing local health guidelines. Importantly, self-guided tours also free up leasing teams to pursue other leads, keep residents happy, and close leases. And for property managers who use Knock CRM and Knock Tours, self-guided tour prospects are automatically added into the Knock workflows, calendar, and To-Do list. All tour details are accessible from the dashboard, and self-guided tour data (along with all other data, including Knock Tours data) is under one roof.
It's also clear that property management companies are seeing results from self-guided tours: Lindsay Bouchard, marketing director at A.J. Dwoskin, says self-guided tours are converting at rates greater than one would think. "We've got some real rock-star leasing professionals who are crushing it at about eight out of 10," she says. "That's great, given you'd think it would be tough to convert on a resident who basically has just checked things out on their own."
By adding a self-guided option to your leasing efforts, you can provide a modern tour experience that stands out from the competition and helps land more applications. But how do you create a great self-guided tour?
Read on for our top tricks and tips for creating the best self-guided tour experience for prospective renters, from start to finish (it's easier than you think!).
What to do before a self-guided tour?
An apartment tour is often a prospect's first interaction with the leasing office, so it's vital to create an easy-to-use scheduling system that also captures relevant data.
For example, Knock's self-scheduling system enables prospective renters to book a tour from web or mobile (while tracking those sources, too), cutting down on time they would otherwise spend going back and forth on scheduling with leasing teams. And with automatic replies built into each stage of the scheduling process, we ensure that each prospect gets the right messaging at the right time.
In addition:
Once you've got your system in place, have staff or friends take a self-guided tour as a trial run. See if and where they might get lost — this provides a good double-check to make sure your directions are accurate and clear — Lisa Trosien, president of ApartmentAllStars.com
Create best-practice cheat sheets for your staff on how to prep for a self-guided tour that includes guidance on everything from which brochures, price sheets, and business cards should be left in the unit, to how to set up an apartment before a self-guided tour begins, phone etiquette and more. Knock Tours makes this easy with an intuitive step-by-step, predictable tour process for your leasing agents to follow, modeled after a secret shop.
Make sure to confirm the appointment after the customer has scheduled or self-scheduled. As with any kind of tour, the percentage of prospects who will show up for the tour increases when the community reaches out with friendly reminders. This also gives the community the opportunity to ask the customer before the tour if they have questions – because, chances are, they haven't interacted with a staff member up to that point. — Karen Kossow, Paradigm Communities
Create an email template for your staff to send to prospects who sign up for these tours where they simply need to fill in the blanks for time and date, what they need to do (go here, do this) and make sure the prospects understand that they can contact the leasing office at any time during the tour. — Bouchard
Make sure your apartment listings indicate that self-guided tours are available. At the start, we did little to promote them – we placed a small button in the corner – and yet had two dozen tours scheduled in 60 days. We now have it as a pop-up option on our property website; and we have signage that includes a QR code so drive-by traffic can snap a photo and schedule a tour. — Shane Gillman, Gates Hudson
If you are new to SGTs and want to ease in, only hold them while you are at the property during regular office hours. This helps you get comfortable with the idea that "strangers" are walking your property. — Scott Villani, The NRP Group
The education aspect of this tour style is important. When we ask prospects if they are interested, most have not heard about them, so having a 30-second speech to describe how they work is invaluable. — Bouchard
What to do during a self-guided tour?
The key to a great self-guided tour is to create a simple, convenient, and comfortable experience for prospects from the moment they arrive.
Walking into a new-to-them community can be confusing, and prospects might feel unsure on what to expect as they venture alone on their tours. Planning and anticipating potential questions is key to ensuring a successful self-guided tour.
Just because the tour is self-guided doesn't mean the experience should feel distant or impersonal.
With today's apartment technology, it's possible to have an entirely autonomous tour, with prospects being able to scan IDs, see sitemaps, and get virtual keys through their mobile device.
If you'd prefer prospects meet with leasing agents to get unit keys, at the very least, your self-guided tour content should include an interactive sitemap that can be used to assist prospects as they make their way through communities that they are unfamiliar with.
Additionally, while a prospect's tour is underway, instruct your staff to be fully available, if possible. You never know if prospects will have questions or need assistance! Don't forget:
While a prospect's tour is underway, instruct your staff to be fully available. They should not be conducting another tour or engaging in a long phone call about another issue. — Bouchard
Apartment buildings can be complicated. Providing wayfinding tools can prevent a poor first impression. You don't want an exasperated customer once they get inside the home. — Trosien
Role-play with staff to get a sense of what might come up and account for it, particularly related to signage and in-unit instructions. You don't want the prospects to miss something because they felt uncomfortable or tentative about which doors, closets or drawers they should open? Give them tips beforehand. — Trosien
What to do after a self-guided tour ends?
Once the tour is over, it's time for your team to work its magic and keep the prospect engaged. Simple follow-ups and thank you notes can provide the personal touch that can convert a prospect to a resident. You likely won't have the chance to say thank you in person, so doing this promptly is important. Some products, like Knock Tours, can even enable leasing agents to send a tailored quote as soon as a self-scheduled tour is over
Finally, make sure to review relevant data and reports so you can get a clear picture of the self-guided tour experience. This data can help you see where self-guided leads are coming from and seamlessly track them throughout the leasing journey, even if they never actually interacted with an onsite team.
At Knock, our Tours package provides property management companies with robust touring analytics, with enough data to turn each tour into a "secret shop," showing what worked well (and what didn't) on self-guided tours.
As with any type of tour, self-guided tours will require practice and patience to get right. But with these tips, you can provide a more flexible tour option for prospects and give your leasing teams more opportunities to turn leads into applications.
See Knock Tours in action – schedule a demo today!