How to Give an In-Person Tour
While in-person tours were the norm for decades, technical advancements have increased the availability of virtual and recorded tour options. The pandemic also made online as well as self-guided tours the most practical option for showing your current available apartments. Now, onsite tours are returning and giving leasing agents the opportunity to market in a more personal way while still taking advantage of the technologies that turn prospects into lease signers.
As you begin to offer in-person tours again, here are some tips to make the most of the opportunity, including how to prepare, schedule, and conduct a tour that will get the lease signed on the spot.
How to Prepare for an In-Person Tour
Being sure the unit itself is ready to be seen can be the most important step you take before a tour. The apartment should have fresh paint on the walls and clean carpets and flooring. Any visible damage should be repaired, and the entire space should be scrubbed clean and fresh. If the apartment is not ready to rent, you risk disappointing the prospect the second you walk in the door. Ask them to wait or suggest another similar unit that is ready.
The best way to determine whether a unit is ready is to walk it as if you were the resident. A pre-tour walk-through also gives you the opportunity to familiarize yourself with the unit and anticipate questions or concerns that may come up on the tour.
Start by identifying the pros and cons of the unit: Are the appliances brand-new and closets spectacular? Does it have a small kitchen or not-so-appealing view? Think of other features to highlight that might counter the cons, especially those that interest the prospect. For example, a small kitchen may not be as much of a concern as long as there's walkability to great restaurants.
However, to know what might interest a prospective resident, you need to put in some time upfront finding out who they are. Does the prospect need a dedicated space for a home office? Did they ask about the fitness center or parking? You're looking for clues in the information that give insights into what's important.
How to Schedule In-Person Tours
Even before the pandemic, consumers were becoming accustomed to scheduling appointments online. While you can still ask prospects to call and make an appointment, a self-scheduling tool like Knock Now™ gives prospects the ability to self-book tours at their convenience. It can also reduce your team's workload by saving the step of entering the prospect's data and putting the tour on the calendar manually.
Tools like Knock Now™ can also increase efficiency because they automatically follow up on scheduled tours. For example, as soon as a prospect schedules a tour, they will receive a confirmation without any work from the leasing team. Additionally, Knock Now™ generates automated email and SMS tour reminders with the ability for prospects to reschedule if needed.
What to Do During the Tour
As you kick off the tour, take a minute to get to know the prospect. Ask them a few questions about what features are important and what attracted them to the unit.
As you walk through the apartment, point out features that fit in with their interests. If outdoor space was a priority, it makes sense to start on the balcony and show off the view. Or, if the prospect mentions that they like to cook, point out the new stove or the extra countertop space. Don't forget to ask questions as you go such as, "What do you think so far?" and "Are you okay with the bedroom's layout?"
Once you've done a full walk-through, give the prospect some space to walk the unit by themselves or take measurements. You'll want to stay close enough to answer questions, of course, but you don't want them to feel pressured.
The focus of your tour should be on the unit, be sure to think beyond its four walls. Take them on a walk around the property to give a sense of the communal spaces and amenities. A property tour gives you the chance to talk up your onsite management team as well. You should also use this time to highlight what makes the area special. Recommend that they head to a great restaurant nearby for a post-tour meal or point out a nearby park with great hiking paths or a dog run.
What are the Benefits of In-Person Tours?
There are several advantages of an in-person tour versus a virtual or self-guided one. First, it's personal. Some people prefer to interact with a real person, especially after spending so much time away from others during the pandemic. Not only can they get immediate answers to their questions, but you can also tailor your tour to their specific interests.
Even more importantly, with an in-person tour, a prospect can sign a lease while they are on site. If they are reluctant, you're also there to address any concerns and outline options.
What to Do After the Tour
If they aren't ready to sign a lease on the spot, be sure to ask for any feedback they may have. What did they like about the unit? What about the community? This information can come in handy when you follow up and help identify other units in your portfolio that may be a better fit if needed.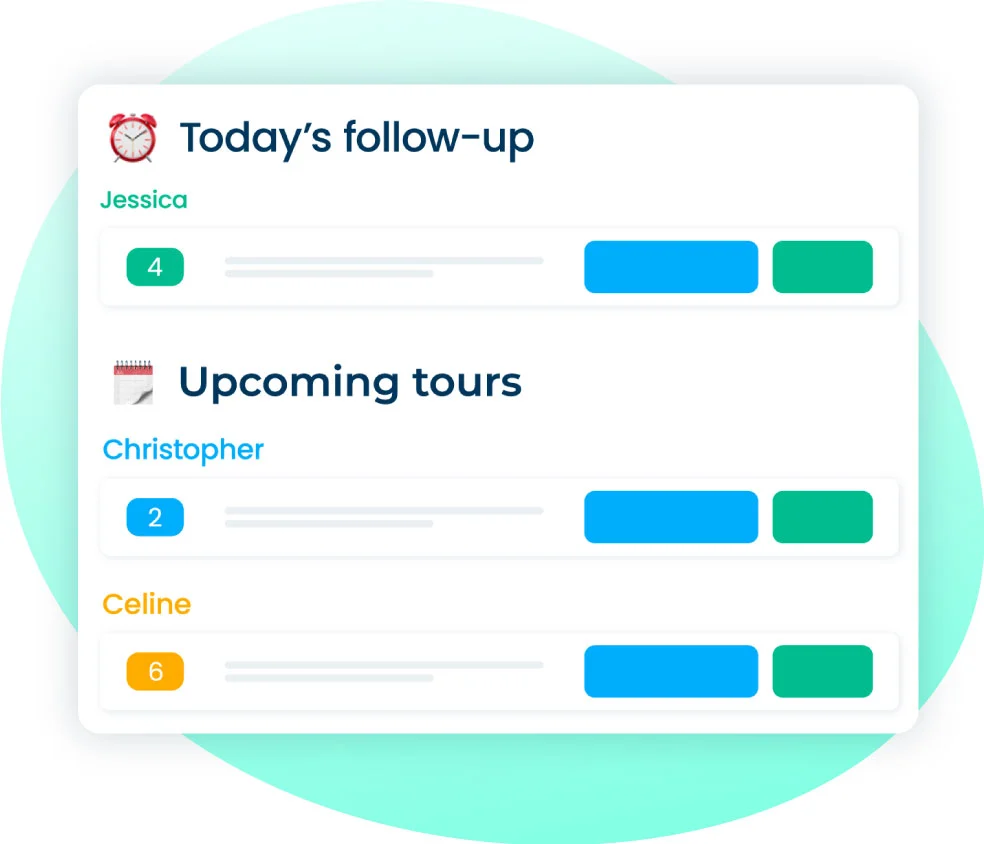 Within a few days, follow up with a thank you. In Knock Tours, leasing agents can do this with an easy automatic email or a reminder to make a phone call. No matter which way you follow up, invite them to ask any questions they've come up with since you last talked. By keeping communication open, you increase the chances that they'll sign a lease.
See how we can help you drive more leases with the staff you have — book a demo of Knock Tours!