Fighting and Preventing Fraud in Multifamily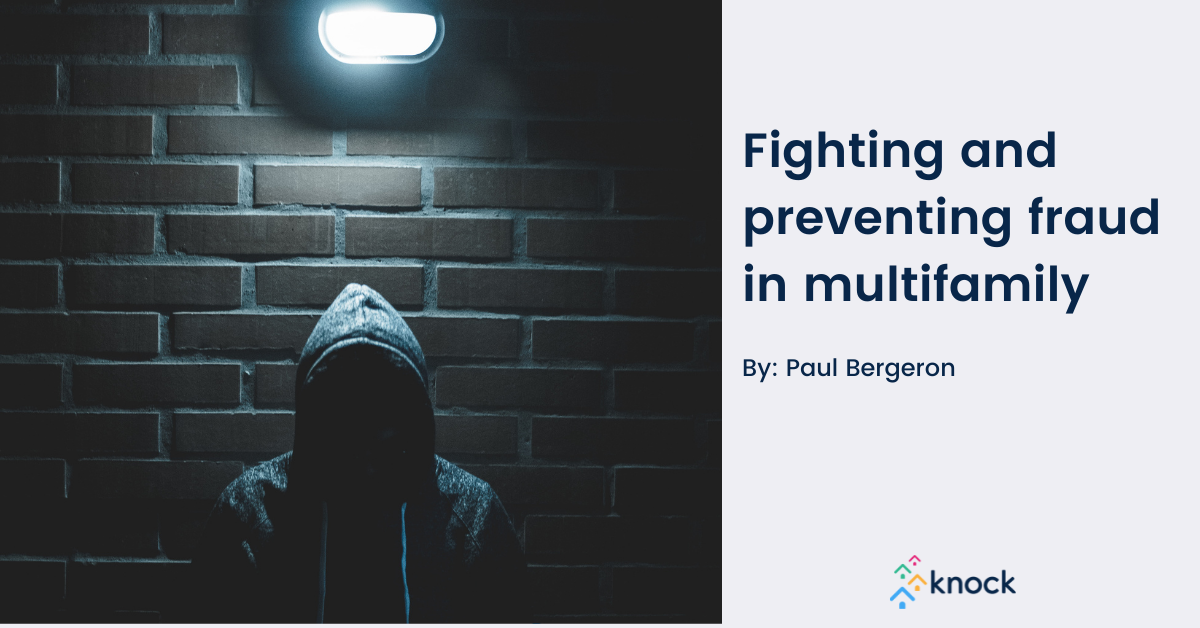 The bad news is that the number of apartment resident applicants who are attempting ID fraud continues to grow. The good news is that the industry and its supplier partners have become increasingly more adept at identifying and stopping such cases in their tracks.
An operational focus on prospective resident screening is crucial as the industry moves into more and more touring done through self-guided channels. Sound vetting takes on greater importance when it comes to giving apartment home access to applicants a community is meeting for the first time. Even more so, to those who the onsite staff have not actually met in person before allowing them to pass through their doors.
A wrong step can potentially lead to financial consequences should devious applicants sign leases. Following are ways to spot red flags on applications and best practices on how to improve the verification process.
A 'Healthy Fear of Fraud'
The numbers are chilling.
There are 10,000 active fraud rings operating in the United States currently, according to TransUnion.
Forrester reports that 97 percent of multifamily management companies experience fraud.
A staggering 68 million Americans have poor or bad credit, which is defined as a sub-600 credit score, according to a 2019 report by Experian.
Thousands of "how-to" videos are posted online that teach consumers how to scam their way into apartment leases.
"The apartment industry is developing a healthy fear of fraud," Wendy Dorchester, Senior Vice President, Operations, Pegasus Residential, said. "Cases of fraud really accelerated during the pandemic."
One national multifamily housing operator said there are numerous ways that fraudulent applicants can provide identification that could be difficult to identify.
"Although our onsite team members may have prior experience and expertise at identifying fraudulent IDs, parties are becoming increasingly clever at developing new tactics to commit fraudulent IDs," it said. "Partnering with a third party that has the expertise to identify fraud is key to mitigating risks."
Dorchester said she is seeing more fraud occurring at Class A properties than at B or C.
Persons who commit fraud are referred to as fraudsters, bad actors or even "gypsy thugs." Their efforts fall into four categories:
Synthetic ID: Information is real and mixed with false information to throw off vetting systems.
Stolen identification fraud: The documents are real, but they belong to someone else.
Income fraud: Forged pay stubs.
Identification manipulation: Taking a document and using Photoshop or other to change a number or two or the spelling of a name.
There are those who are in it for profiteering purposes in what is a big, lucrative business. Fraudsters don't necessarily want to live in the apartments they rent, they are just looking to sublet them.
Others commit fraud out of fear because they are afraid that they might not qualify for the apartment based on their actual background. So, they forge documents such as pay stubs or identification to get past the verification process.
Credit privacy numbers (CPNs) are what applicants can use to fake their way into apartments. CPNs allege to show a qualified person's background. CPNs are sold by fraud rings. They provide a full package that includes all of the IDs necessary to apply. They are designed to get through the system.
There's an explosion of CPNs and it's been devastating to the apartment industry. CPNs are a form of synthetic (or fake) ID, and people can purchase CPNs online. Offers of availability are posted on Craigslist and many other sites, as well as on the NextDoor app, via signs at local transportation station locations and social media. What apartment management companies find disturbing is that the "how-to" online video posts are as blunt as they are staggering.
"For these fraudsters, it's not so much about them figuring out where can they get away with it," Dorchester said. "It can occur wherever they want to live. Crime has no address."
The High Cost of Scammers
It costs apartment communities on average approximately $7,500 per fake tenant. And that does not include the time and money spent by staff members having to verify these applications. (Dorchester estimated that her staff was spending about an hour per application to verify the information.)
Upon inheriting a community that did not have fraud protection, "We might have four, five or six evictions in a short amount of time and these fraudsters might leave us with $10,000 to $15,000 in uncollected rent apiece," Dorchester said. "After implementation of fraud deterrent products, we bring the number of cases almost to a halt."
It's worse for others, who have reported that their residents owe between $16,000 and $40,000 in back rent.
ID fraud continues to be a problem and this has grown since the pandemic and the moratoriums regarding evictions, said one leading national apartment operator. Because of eviction moratoriums in place – and the Centers for Disease Control recently extended its national moratorium through June – communities cannot take legal action at this time.
Software in Place
There are several products available designed to scrutinize applicants' documents.
"Once we began using fraud protection software, we were finding that 50 percent to 70 percent of applicants were denied," Dorchester said.
The onset of self-guided tours in 2020, which are continuing into 2021, creates a unique situation for resident application verification, the panel said.
One national apartment operator said when an applicant is leasing online or is not interacting with one of its community representatives, there is a higher instance of fraudulent applications. It said its screening product has prevented the majority of these types of ID fraud attempts. It's pleased that it was able "to quickly add technology to combat a problem which was magnified during COVID," it said.
Software firms' processes involve as many as a 10-layer application check to enable self-guided tours. Some communities require that applicants complete guest cards before they are sent links to apply online.
"If your self-guided tour screening process is set up manually, you're really taking a chance," Dorchester said.
Waving Red Flags
It's recommended that when applicants arrive – prospective residents or service providers – their IDs should be screened for authenticity. Don't put their ID in the drawer and then show them around, they said. Scan it. Most drivers' licenses and passports have bar codes. Additionally, there are products that include facial recognition software that can help, too.
Following are red flags to look for:
Passport only: If they only present a passport, it won't provide previous addresses.
Thin credit lines: Files where there are no (or very few) tradelines.
Address history: Make sure what you find matches the documents presented.
Typos: If the documents show odd capitalization or misspellings, such as on offer letters, be concerned. (Kilpatrick spoke of a time when an offer letter was presented from an apartment company and it included an old logo – she was aware that the company went through a rebrand and it was outdated).
Do the math: Verify that the calculations shown on the documents is accurate and the dates are in sequence.
Special situations: If the applicant refers often to special situations when explaining some of their history, that is a warning sign.
Spoken and written word: What they say in person often is misaligned with what the document states.
SSNs: Keep in mind: that some Social Security numbers are issued 10 years after a person is born, so that is not necessarily a red flag, especially from those in younger generations.
Consistency and Fair Housing
Be consistent in what is asked of applicants. Follow fair housing guidelines. Ask the same series of questions based on the type of applicant: Those currently employed, unemployed, self-employed, or retired.
Document findings for every applicant using the same format
Look for pets, illegal behavior, hints for employers/type of employment
Don't decline someone based on social media.
Don't decline someone because you disagree with a point of view they've expressed.
Don't decline someone because of your "gut" feeling.
If you are using social media to verify, exercise caution due to possible Fair Housing Act and Fair Credit Reporting Act violations. Check with your legal department or attorney. If they approve, use the same methods (and sites) for all applicants. Social media can provide "threads to pull" but will never tell you the full story, the panel said.
Get the Rental History
Dorchester said, "During the pandemic, it's even more important to thoroughly check rental history. It's valuable to know if they are leaving a balance behind at their previous community when they jump from one to another. A three-year rental history is ideal."
Dorchester recommended using Google maps to check the addresses given. "We've had some list locations that were nothing but a dumpster on a dirt road."
Other tips provided:
Verify on your own, never rely on phone numbers or emails provided by applicants.
Ask applicants to provide check-cashing receipts or bank statements and compare the documents for accuracy. Contact the check cashier to verify the receipt.
Verify all employment & wage documents with the employer.
Check your local county database for evictions.
What do you do if the ID fails? Tell the applicant that you are unable to verify it and ask if they have another form of ID. Don't use forceful language indicating the information was unverifiable.
In the end, this might be a lot of necessary steps, but real, truthful applicants will appreciate that you took them.
Looking for a touring platform that will decrease fraud and increase applications? Try Knock Tours.