(Case Study) Knock's key insights give Paredim Communities a competitive leg up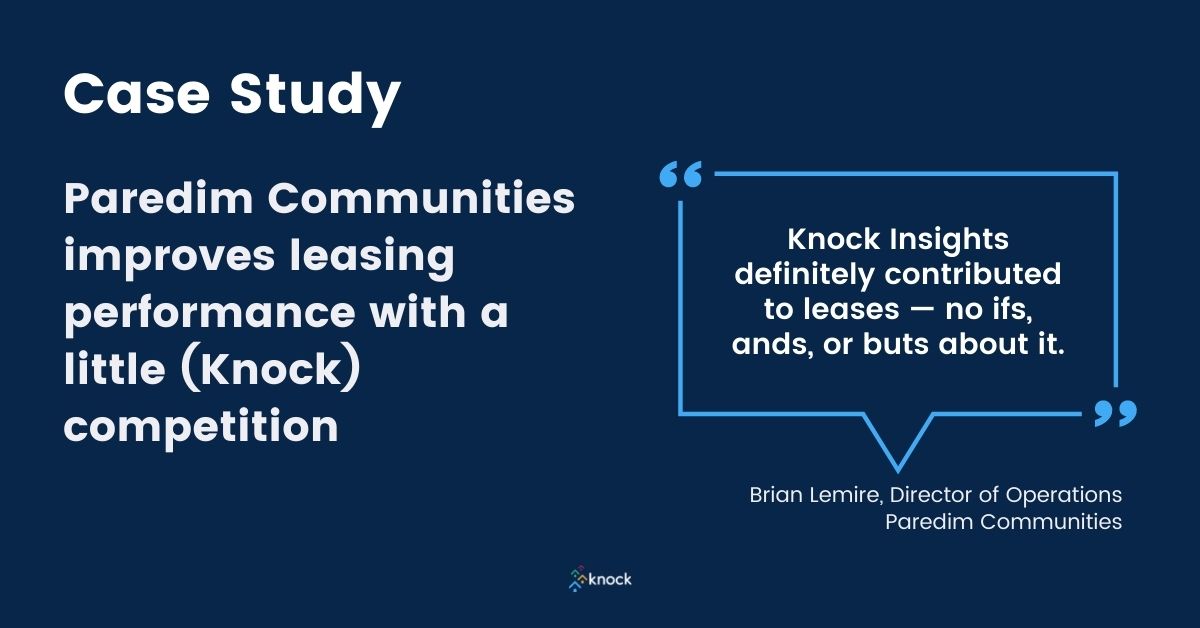 Dedicated to "Apartment Living Done Right," Connecticut-based Paredim Communities needed a behind-the-scenes CRM that ensured just that—an effective, efficient means of managing their 1,800 to 2,000 units. Fortunately, Brian Lemire, Director of Operations, was introduced to Knock via a trusted industry contact, and—after an easy demo and successful trial—the rest is history.
"One of the things that has really won me over is the ease of communication—the communication from just the flowing in of traffic," explains Brian. "Knockbot has absolutely enhanced our website and communication, even given our wide-ranging demographic." Offering a chat widget that funnels all of Paredim's traffic into one centralized location, Knock grants teams improved efficiency and productivity—all while ensuring prospects don't go untouched.
"It's great because we have one place to go, which is Knock, and we handle everything right from there," states Brian. "All of our follow-ups, all of our phone calls. Knock just makes it easier." Better yet, Knock enables Paredim to easily contact anyone who has ever flowed through the system. Via just a few clicks, team members can reach current, past, or potential prospects, whether "it's a resident e-blast, or there's a special going on."
While previous years saw Paredim hovering between 93% and 94% occupancy, right now their portfolio is running at 96%-and-change occupancy. "Knock is a big influencer of this." Brian continues, "Knock, as a tool, makes it so easy for lease consultants to communicate and respond to leads—and capture those leads. There are statistics out there that state if you respond within a certain timeframe, the chances of obtaining that lease are immensely more than a competitor who takes hours to respond. Knock enables us to respond to prospects—immediately, regarding availability or whatever specific questions they have—and improves our chances of landing that lease."
Additional perks to teaming up with Knock include valuable insights into the industry at large, as well as internal teams' performances. "Knock's Engagement Score tells us where we're at, how we're doing, how well we're communicating with prospects, all of that." When Knock's weekly automated reports highlighted a slight dip in performance, Brian conjured just the right amount of competition to spark some creative (and collective) goal smashing.
The results were immediate and impressive. "Everyone was performing really well, but what was really great, was seeing the Engagement Score percentage increase from 60% to 81%, over the course of a two-week period." Brian adds, "A 20% increase showed me that teams were at home responding to leads non-stop, and keeping that follow-up going and going." Brian adds, "It absolutely had some type of influence on leases. There are no ifs, ands, or buts about it."
"Now I know that an Engagement Score of 81 is achievable. Thanks to Knock we can see those statistics, and see how we compare against the industry," he continues. "Where should we be? Where should we be in Connecticut? What's going to give us a competitive advantage? We always want to stay ahead of what our competitors are doing, right? Knock is how we gauge those metrics."
"From a bottom-line standpoint, this year we've seen about a 4 to 5% growth. Which, I'll take in any given year—but in 2020? I'll take it. Knock is absolutely a piece to the puzzle that helps us perform at our highest level. It's a one-stop-shop, when it comes to traffic and leasing. You don't really need anything else—it funnels everything right into one location and is really easy to use and a great communication tool."
Get more leasing insights like these — sign up for the Knock newsletter!