Knock® Releases Multifamily Leasing Performance Research Report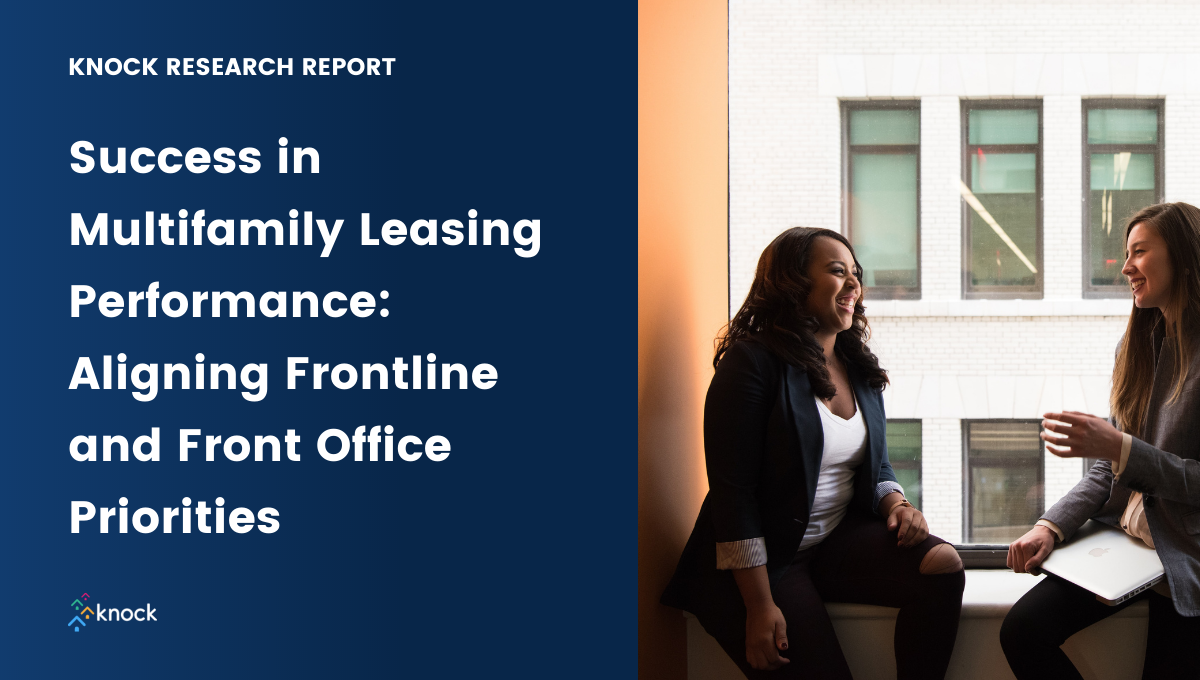 We are excited to announce the release of Knock® CRM's comprehensive research report that addresses the top operational priorities, concerns, and disconnects among multifamily front office professionals, including renter experience, hiring and retention, and career growth.
Knock's report — Success in Multifamily Leasing Performance: Aligning Frontline and Front Office Priorities — reveals survey data from over 700 corporate and frontline multifamily professionals. It provides a detailed analysis of the discrepancies between their priorities and perceptions, while also reinforcing growth priorities across the industry, and sharing data-driven strategies that help align multifamily frontline and front office, corporate teams.
A few of the report's key findings include:
32% of onsite and 29% of corporate employees rated "provide an exceptional experience for renters and prospects" as their top priority.
75% of corporate respondents report they are concerned the labor shortage will impact their ability to hire and retain leasing teams. And, more than half of the onsite respondents are looking for a new job or are open to new opportunities.
85% of corporate respondents reported they think they could improve profits if they had better insights, but only 9% are "extremely confident" in the data they are using to make decisions that is consistent across reports and systems.
Our report is organized by the priorities our respondents (you!) consider to be most important.
We asked: What is the top priority for your business? Accordingly, our report is organized by the three priorities considered to be most important:
Providing an exceptional experience for renters and prospects
Retaining and hiring the right staff
Increasing rents and occupancy rates
In each section of this report, look at the data and provide concrete ideas to help you bridge the gaps in these high-priority areas.
Residents First: Providing Exceptional Experience Remains Top Priority
32% of onsite employees rated "provide an exceptional experience for renters and prospects" as their top priority. 29% of corporate employees agreed. Discrepancy and disagreement is uncovered when looking at team expectations. 63% of onsite teams think their renters are very highly satisfied while only 28% of corporate employees agree. This disparity is driven, in part, by a lack of insight into leasing operations. Only 36% of corporate employees said they could see clearly how agents perform.
The report takes a closer look at the factors that either help or hurt the front office in providing the experience they say they prioritize. When presented with a list of challenges from "collecting rent" to "using the provided technology," the top two difficulties onsite teams identified were "dealing with resident complaints" (52%) and "balancing too many tasks" (44%). This points to an ongoing challenge for front offices, who are often forced to prioritize resident complaints and clearing routing hurdles over-sharpening their service skills.
Knock's report recommends automation as a key to freeing up the front office so that time spent on repetitive action can be better spent tending to residents. Corporate employees already recognize the benefit of and need for automation; 91% of them are actively looking for ways to reduce repetitive tasks. Onsite teams are most interested in automating several tasks.
Recognizing Value: The Key to Overcoming Hiring and Retention Woes
25% of corporate employees indicated hiring and retention as their top priority, and 75% of corporate respondents indicated significant apprehension over the labor shortage and their ability to hire and retain leasing agents. Understandably so. 55% of onsite respondents said they were actively looking or open to new opportunities – with most planning to stay in the industry.
Tight labor availability is driving much of this concern. In addition to the costs of having to fill vacant positions, high turnover leads to more time spent training new staff, which further burdens operators and ties up already-scarce resources in the front office.
Knock's data shows that one of the keys to increasing retention and decreasing time spent hiring and onboarding new talent is recognizing and articulating employee value. This comes in several different forms, according to onsite respondents, including opportunities for advancement, better communication, and recognition/appreciation. There appears to be an inverse relationship between employees' sense of being valued and their desire to take a new position.
Onsite teams that feel more valued also report higher renter satisfaction. See how much.
The Profit Motive: Increasing Rent and Occupancy Rates
When asked what the most important metric was for the business, 45% of corporate respondents indicated net operating income (NOI), followed by rent growth (17%) and occupancy rates (11%). Apartment onsite teams report a different list.
While there's broad alignment on the desire to do "better," the divergence in terms of metrics highlights two sympathetic yet different approaches to developing the multifamily business. Unless corporate, managerial, and front office staff get on the same page, they'll frustrate one another's attempts to grow. Success in 2022 will depend on better alignment, communication, and transparency.
The key to transparency, and the growth that comes as a result, is accurate reporting. 85% of corporate respondents indicated they would be able to improve profits if they had better insight into how properties and their staff were performing, but less than 10% of them have performance data they can trust. This creates a disconnect between corporate and the teams they seek to manage; it also prevents managers from being able to optimize their operations in any meaningful sense.
What did the survey reveal about ways to improve performance?
The Way Forward
Optimizing resident experience, hiring and retaining top talent, and improving performance in key metrics next year might seem like a tall order. The data shows a solution and sigh of relief. Defining and aligning – together – what success and progress look like, with the transparency and tools to keep both onsite and corporate teams accountable, will unlock the procedures and processes to drive more growth.
Get the report: