Lead Management Best Practices To Maximize Your Conversion Rates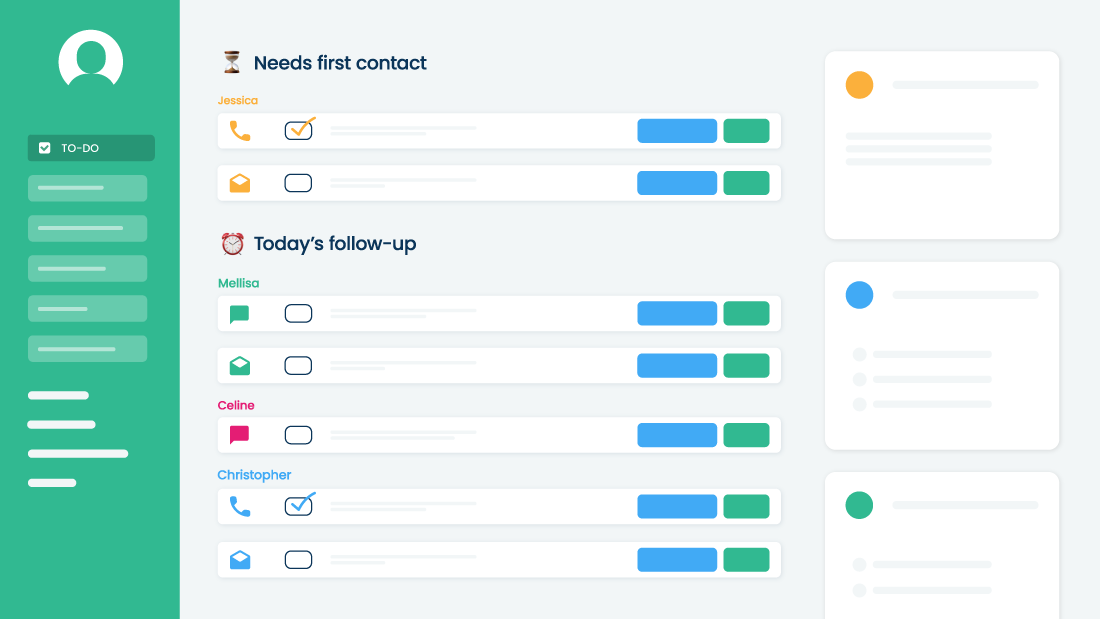 To maximize your leasing conversion rate, marketers and property managers need to work together to use their budget effectively to generate high-quality leads, have the tools and processes to respond to leads in a timely manner, and be able to give prospects the information they need – as quickly as possible – to sign that lease.
The following lead generation tips can help you convert leads to leases and keep your communities at a healthy occupancy rate.
Recognize the impact of response times
So much of lease conversion hinges on response time. On-site teams are busier than ever, and it can be too easy (and common) for a prospective renter to wait over 24 hours to get a response — if they get a response at all.
Teams that shorten their response times generate more leases, according to a study by Knock. If it takes your team between one to six hours to respond to a lead, that prospect is 32 percent less likely to sign a lease than if your team had responded in under one hour, according to Knock.
However, if you can automate the process, you can drastically reduce response times and increase the likelihood of converting leads to leases.
Property managers that use Knock's automated systems saw an average 20 percent improvement in lead-to-lease rates, according to the company's data science team. On a portfolio of 5,000 units, this increase translates to, on average, a $780,000 NOI annually!
Just as important is how much each of those lost prospects cost you. Knock estimates one in five of your lost prospects could have been converted to a lease if you had responded quickly enough. Over the course of a year, that single missed leasing opportunity can result in a $13,200 loss, according to the National Multihousing Council.
Reduce response times
Using strategic and flexible software solutions drives gives you the tools to reduce response times and improve leasing conversions through automation.
With Knock, you have access to more integration partners than with any other customer relationship management or CRM. As a result, you can build a framework that enables you to connect with prospects more quickly and make better connections than ever. Here are some of the ways Knock helps you connect and respond quickly to prospects:
Prospect self-booking: When a prospect is searching on an ILS or poking around Facebook, they can self-book an appointment (in-person, virtual, etc.) right there. Prospects can self-serve from anywhere online that is connected with Knock. We've seen clients' properties increase tour volumes up to 2.5x with the use of this self-serve tech!
Knockbot: This scheduling and communications tool automates conversations with prospects and lets them get the information they need, and schedule tours 24/7 when they're on your website. That's even more important these days, with 38% of our clients' tours getting scheduled after hours when no staff would have been available to respond. These leads go straight into Knock just like email and phone leads.
Automated leasing tasks: Whenever a prospect calls an assigned tracking number, emails, or contacts through one of our partners, Knock automatically creates a new lead in the system —no more waiting for someone to manually enter the lead. If the prospect calls, they have the option to receive a reply through text message or be forwarded to a leasing agent. Knock has taken hundreds of leasing tasks and automated them, so you have more time to connect with prospects!
Optimize your marketing spend
Knock can also track how a prospect reaches out to you, whether via call, email, text, online form, Facebook, a self-scheduling tool on your website, a self-scheduled tour through a partner, like Apts.com, or even a prospective renter who walks in. Learning how your prospects make that first contact with you helps you to better direct your marketing spend.
Jessica Gooden, director of marketing for Davis Development, believes using tools available through Knock made all the difference when leasing Satori Frisco, a 331-unit community in Frisco, Texas.
"We were able to get 45 leases in just four weeks of pre-leasing," she says. "Most management companies I have worked for hire one person to start pre-leasing a property at least two months in advance. We have proven that with proper lead management through Knock, we can accomplish the same if not greater results in half the time."
Generate referrals
Word of mouth can have an impact on how quickly leads turn into leases at a property. Usually, referrals aren't something you can control, but by using Rentgrata, a residential referral platform, through Knock, you can connect prospects to current tenants, who hopefully encourage them to sign a lease. Sarah Gencarella, marketing director at Olympus Property, says that when they tested this with 10 properties, they saw conversion rates go through the roof.
"We found that if people chatted with someone via Rentgrata, they were basically two times as likely to lease," she explains. "Out of those conversations that took place on Rentgrata, two-thirds of those people would actually lease at our communities. That's an insane conversion rate. Over 60 percent. Typically, a conversion rate is 30 percent from a traditional lead source."
Follow up for maximum results
When you enter leads manually, it's easy to let some leads slip through the cracks. Since an automated solution like Knock can enter your leads in real-time, you don't have to worry about that happening. Your leads will be in the system, available for timely follow-up.
Additionally, Knock's guest cards record vital information about your leads, such as email address and phone numbers, and let you add "notes," such as whether your prospect has a pet and what the pet's name is, so when you do follow up, you can make the interaction more personal. You can also schedule follow-ups at an appropriate time so you don't overwhelm your prospect.
Review your team's performance
You can only improve what you can measure. Knock can provide everything you need to know about your team activities and results in easy-to-access and easy-to-read reports. You can quickly see how long each property is taking to respond to leads or whether that property is following up when the property should. The reports can even help you identify areas where additional training might be needed.
Shelly Grimes, director of training for Aspen Square, says being able to see response times for every prospect has been especially eye-opening.
"Before, we were gauging this through individual shops at the properties," she explains. "Now, we get that in the analytics from Knock. We can drill down by property and for each employee. It really helps me identify challenges and gives me the visibility I need to be able to provide additional resources to help employees succeed."
Turning leads into leases can be a challenge at times, but it doesn't have to be. By using the tools available through a solution like Knock, you can automate much of the leasing conversion process and maximize your results.
Want more leasing insights? Sign up for the Knock newsletter!