(Case Study) How Living Well Homes improved leasing team performance and streamlined communications with Knock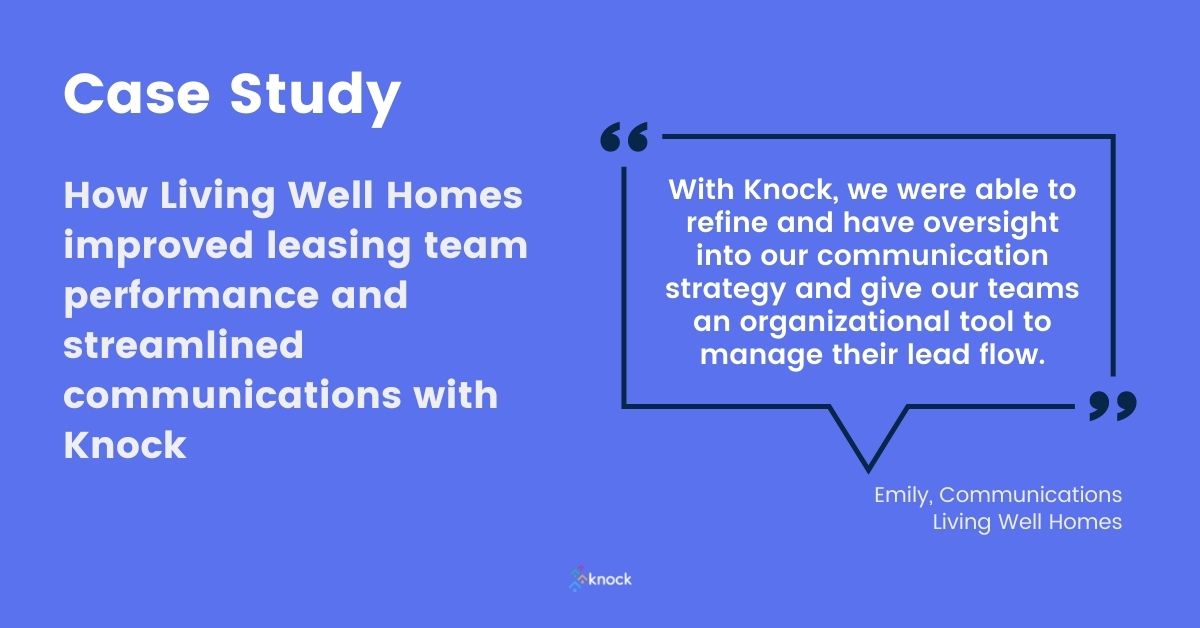 In 2019, Living Well Homes realized it didn't have enough oversight on how employees were engaging with their leads.
"We didn't have enough oversight on how our leasing teams were communicating with their prospects — nor data on our response rates and timing," says Emily, who oversees communications at the company. The marketing team at Living Well had outlined communications expectations for leasing teams: "Each site was provided with communication tools and standards such as: follow up at least three times, spell check your emails and engage with prospects on the phone, however, without direct access to their inboxes, these standards couldn't be strictly enforced."
Without a way to track communications or ensure agents followed up with leads in a timely fashion, Living Well was left wondering, "how many leads were getting lost in the shuffle? How many times had we lost a prospect because they heard back from another community sooner?'"
"First, we wanted to refine and have oversight into our communications strategy," Emily says. "We also wanted to give our teams an organizational tool to help them handle their time and manage lead flow. We also needed a tool that would allow us to evaluate our employees' process and success." And Knock fit the bill.
Living Well Homes had initially tried to implement the CRM offered by their PMS (property management system), but soon became frustrated by stalled customer service. "So after a year of having budgets approved to launch a CRM and buy-in from our stakeholders, we had no CRM to work with," says Emily. "We made a shortlist of companies offering a CRM, and we were really impressed with how Knock looked and felt, as well as its very short rollout time."
Up and running in a month and a half with Knock's "intuitive" multifamily CRM
That quick rollout was a major factor for Living Well Homes; after more than a year of searching for the perfect CRM, their teams were raring to go. Once they had Knock, "we rolled everyone out in a month and a half, including set-up time," Emily says.
Following a speedy rollout was fast onboarding. "It was really easy to learn and for our teams to train on," says Emily. "Knock is a very intuitive tool."
With its teams trained and ready, Living Well Homes leveraged Knock to put a formalized communications process in place and monitor employee performance.
With Knock's benchmark performance trends and reporting, Living Well Homes gained clear visibility into leasing team activity — including individual team members' communications — to see which agents were performing well and which needed additional support.
Living Well also leveraged Knock's Quick Replies function to streamline email communications with prospects: Leasing agents were able to choose from a number of email templates associated with different scenarios, with the ability to personalize them for each lead, ensuring teams were getting the right message across at the right time. Additionally, Living Well Homes used Quick Replies to cross-sell; if a particular unit was unavailable, teams could use templated responses to easily show other units in the building as well as at sister properties. They also programmed their replies in Spanish to cater to their diverse prospect pool.
Using Knock was like "the difference between night and day"
Since implementing Knock in November 2020, Living Well has gotten more than just a clear picture of its communication process. The overhaul of their communications strategy yielded striking results: Tours increased by 28%, approved applications went up by 45%, and their closing ratio improved by 46%.
"The difference in our oversight and evaluation of communications is like night and day," says Emily. "It's helped our leasing teams organize themselves, it's helped them book more tours, and it's helped them work more efficiently as teams." The handy Quick Replies feature also enabled teams to create a record of the messaging that worked best to encourage high-quality leads to apply.
"Now, we're able to go in and evaluate employees' performance and how they are staying on top of their lead flow. We've built this report that shows, month over month, stats for all of our active agents, their conversion ratios, their lead-to-lease rates, and the applications they bring in," continues Emily. "And then from a qualitative perspective, we have regular calls to review what is and is not working for a communications standpoint. It's really allowed us to see improvement over time."
Further increasing the number of approved applications was the ability to pre-screen prospects — without adding to employees' workloads — through Knock's chatbot feature. "The FAQs that we have in our chatbot allow people to pre-screen themselves," explains Emily.
Today, Emily can't see the team operating without Knock. It's such a major part of their leasing team performance that, when hiring a new employee, "we put together a quiz that has a few scenarios somebody would find on Knock," she says. "Knock has helped us understand and evaluate what it takes to be a twenty-first century leasing specialist and what qualities we need to look for as we continue to grow our remote and virtual leasing staff. Really, our whole business has changed."
And to learn more about how Living Well Homes overhauled their prospect communications strategy, download the case study.