SEO for Multifamily Property Managers: A Simple Primer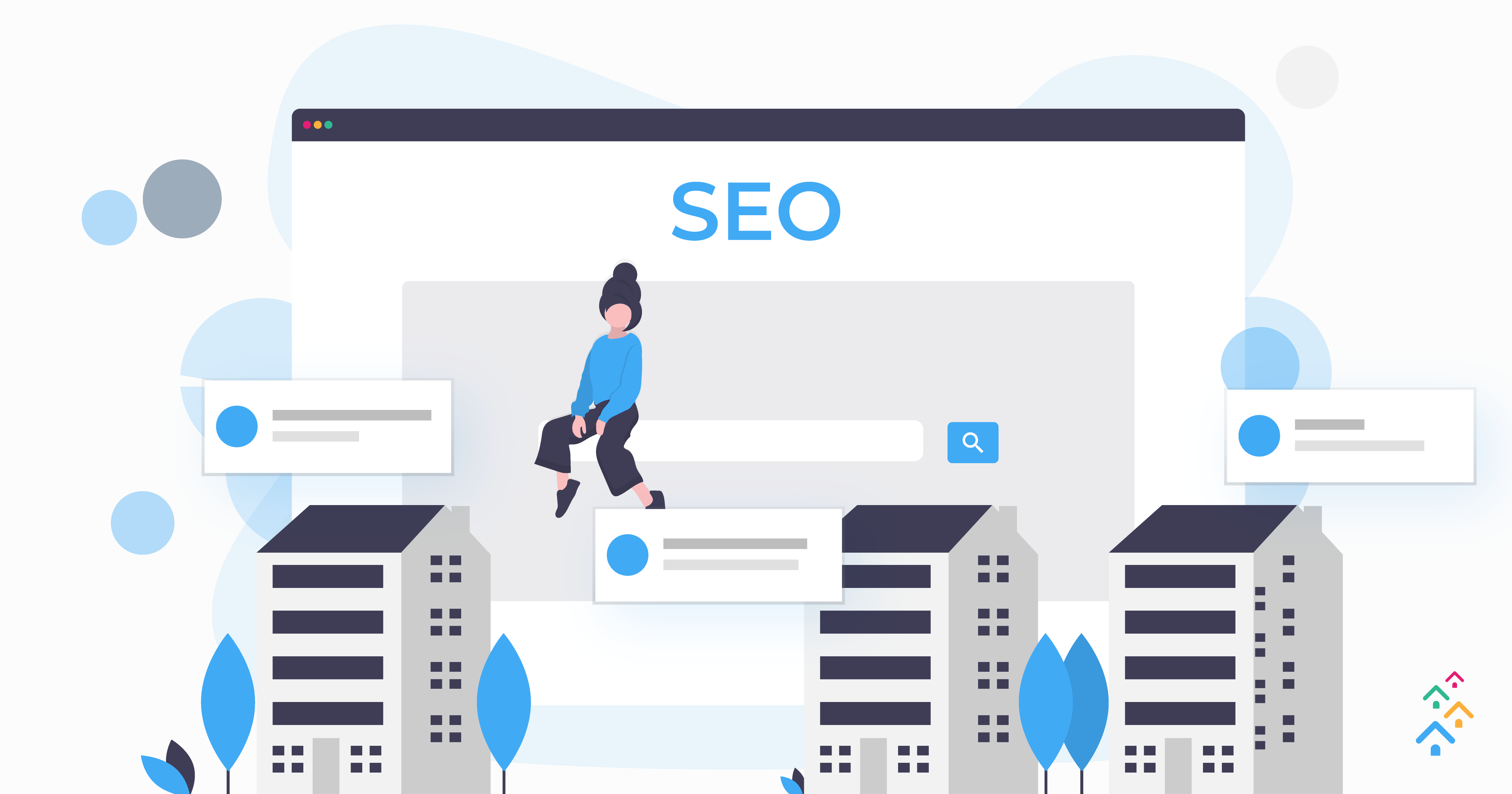 Search engine optimization (SEO) isn't a luxury: it's a necessity for property managers. The trouble is, the pool of multifamily-specific SEO expertise is deep and wide and can be challenging to wade through.
For the uninitiated, it's hard to know where to begin. If you're not quite sure where to start when it comes to multifamily SEO, Knock® wrote up this simple primer that covers property management SEO.
You won't learn everything there is to know about property management SEO, but you will learn enough to see a dramatic improvement in search rankings and visibility.
Let's get started!
What is SEO?
Let's start with the basics: SEO is what website owners do to increase their sites' performance in search engines like Google. It draws together elements of web development, content creation, and relationship-building to help sites succeed. Having more strategic multifamily SEO can help your site rank higher when users are searching for homes or apartments to rent — increasing the chances that a renter will check out your property and maybe even sign a lease.
Google's top priority is to help its users find rich, helpful content as quickly and easily as possible. All the algorithmic mumbo-jumbo surrounding Google's artificial intelligence is geared towards that end. That makes this your fundamental multifamily SEO principle: Serve the user, win with Google.
For multifamily property managers, this means learning to think like your target market and crafting content to meet their needs. For example, if you've got a community in Pensacola, Florida, and you write high-quality, SEO-rich articles about things like "where to live in Pensacola" and "rent near Siesta Key," Google will likely launch your site to the top of Sarasota renters' search results.
How does Google know which sites to reward in this way? The answer is complicated, but things like keywords, site structure, and linking provide just a few of the signals Google uses to determine the value of a site. (Read more on that below.)
—
Strategy: Designing an SEO Campaign for Multifamily Real Estate
SEO can seem overwhelming, but thankfully there is enough content out there to help you find everything you need to know to execute a successful campaign.
That said, here's a four-step framework to help you get started:
1. Identify the right property management keywords.
In SEO, there's nothing more foundational than careful keyword research. Using a tool like Google's Keyword Planner or Ahrefs' Keyword Planner, search for keywords that are low on competition, high on volume, and relevant to your target.
For a beginner's guide to keyword research, click here.
When looking for property management SEO keywords, don't limit yourself to the obvious stuff like "St. Louis apartment complex." Remember what we said above about learning to think like your prospective tenants, anticipating their needs, and designing your content to match? Try thinking creatively about what a prospective renter might search for.
Some ideas to consider include amenities a renter might look for (if you have, say, covered parking) and other lifestyle topics that your community can offer (pools, location, proximity to nearby attractions or restaurants) that someone might look for.
Here are a few examples:
"what's a typical security deposit in St. Louis?"

"where can I find the best amenities?"

"apartment communities that allow pets."
These phrases might seem too specific, but what they key into is the power of the long-tail keywords. Long-tail keywords are not searched for as often and also, you guessed it, tend to be longer search terms that are more specific, but they also tend to be more effective at achieving results than more searched-for keywords. Here's why: If you try to cast a wide net ("St. Louis apartments"), your search engine results will get swamped by the competition. It's unlikely you would rank high in such a common Google search. If you choose a narrower search term, however, you stand a higher chance of ranking on page 1. Moreover, you might increase your chances for conversion..
How?
Generally, long-tail searchers are farther along in the buying (in this case, renting) cycle than general searchers. They're the ones who are typically ready to take a tour and sign a lease today.Long story short, targeting the long-tail is win-win for property managers and searchers alike.
2. Develop stellar SEO-friendly content.
As we learned earlier, Google rewards high-quality content. You used to be able to write a 300-word piece of garbage and still get to the top of the search results, so long as you used all the right keywords. Alas, those bad ol' days are far behind us.
Today, if you want to rank for a specific phrase, your best move is to write a long, comprehensive article that addresses the search term from multiple angles.
Not only will that communicate value to Google, but it'll provide more opportunities for the search engine's web crawlers to pick up content and rank you for ancillary search terms.
On top of that, your high-value content will be much more likely to get shared and linked—all that adds up to higher search rankings and more traffic.
Just like with #1 above, specificity is your friend. Especially with the rise in voice-activated searching, Google likes pages that go into detail on a narrow question. In sum, a deep dive on "why can't I find an apartment that'll take my large dog" will net you much more traffic than a general piece on "apartment building pet policies."
3. Tweak your site.
Quality content is essential, but so is the container it comes in. By using specific SEO-friendly tags and these below tips, you can help increase your Google rankings. (Learn more about effective website design on this site.) If you want the bots at Google to "understand" your site, you need to structure it accordingly:
Employ short URLs that include your keywords.

Put your keywords in each page title.

Use heading tags (h1, h2, etc.) to structure the flow of your content.

Include

schema markup

.
Don't forget to fill out your

metadata

.

Make sure your keyword shows up within the first 150 words on a page.
Important: Don't overstuff your keywords!
What we've just introduced here is called technical SEO, and it gets a whole lot more complicated than this. Still, these basics will help establish your site on firm ground.
4. Start building links.
As we'll see below, link-building is a crucial factor when it comes to authority. If no one links to your site, Google will think your content isn't worth serving to its searchers. On top of that, if your site doesn't link to itself, Google won't know how to crawl it.
Building links to community web pages can be difficult. That's why it's important to establish a central site for your multifamily property management company and then link out to individual community sites. Focus on building authority for your central site which can then 'trickle down' to your communities.
For more on link-building, check out this comprehensive guide.
Ranking: What Does Google Want from Your Multifamily Property Management Site?
Google's sophisticated AI is geared towards serving up the best experience possible for searchers. In addition to what we've shared above, here are seven factors Google uses to see whether your site is worth ranking:
Domain Authority – Age matters. In general, Google ranks older domains higher than newer ones.
Mobile-Readiness – Mobile is the future, and Google knows it. If your site isn't mobile-ready, you won't rank.
Page Loading Speed – Last year, Google added loading time to its algorithm. Now, only the fastest pages will climb to the top of page 1.
Site Accessibility –To satisfy Google's crawlers, you need an easy-to-read URL, and updated robots.txt file, and a functional sitemap. Without these, Google won't be able to index your site, and you won't rank.
User Experience – Google's RankBrain wants to know what people think of your site. If users bounce quickly, your rankings will suffer. If, on the other hand, they stay, read, and share, Google will reward you for serving your visitors. Read our blog post on UX and how to create a website that converts.
Social Sharing – It's not entirely clear how Google factors in social sharing, but there's an abundance of research out there to show that more social media shares can translate to better rankings.
Analytics: How Do I Know my Multifamily SEO Campaign is Working?
Marketing is measuring.
The only way to know whether your SEO is working is to keep a close eye on the numbers. Every time you make a change, dive into the analytics to see exactly how that change has impacted your performance on Google. Google Analytics can be intimidating at first, but it represents a powerful tool in every marketer's toolbox. This is especially true in a competitive industry like multifamily. With it, you can learn more about who's visiting your site.
The best thing you can do with Google Analytics is monitor organic search traffic. This will show you where visitors are coming from and how they're engaging with your site. Look for those keywords that drive conversion, and then throw your weight behind them
If you find some of your pages underperforming (high bounce rates, low volume), revisit them and see if you can pinpoint any problems.. Sometimes, the fix is as easy as tightening your copy or changing your keyword choices. The point here isn't to become an analytic expert, but to exercise enough SEO-awareness to keep your site in the running for page one.
Need more help? Here's a comprehensive guide to Google Analytics.
Conclusion: Above all, serve the user, win with Google.
We've covered the subject of multifamily property management SEO extensively in this article. In wrapping up this primer, we want to remind you of the simple axiom we shared at the beginning: Serve the user, win with Google.
If you can remember those words in all your strategizing, optimizing, and analyzing, you'll soon realize that SEO isn't ultimately about playing the Google game. It's about taking care of people, just like multifamily property management.
Additionally, pairing SEO with search engine marketing (SEM) or paid ads to make your site appear on search engine results pages (SERPs) can be an effective way to market your properties.
Want to know more about search engines and multifamily? Check out our blog post on Search Engine Marketing (SEM) basics.
Get multifamily marketing tips and inspiration delivered straight to your inbox with the Knock® newsletter.