Social Media Ad Basics for Multifamily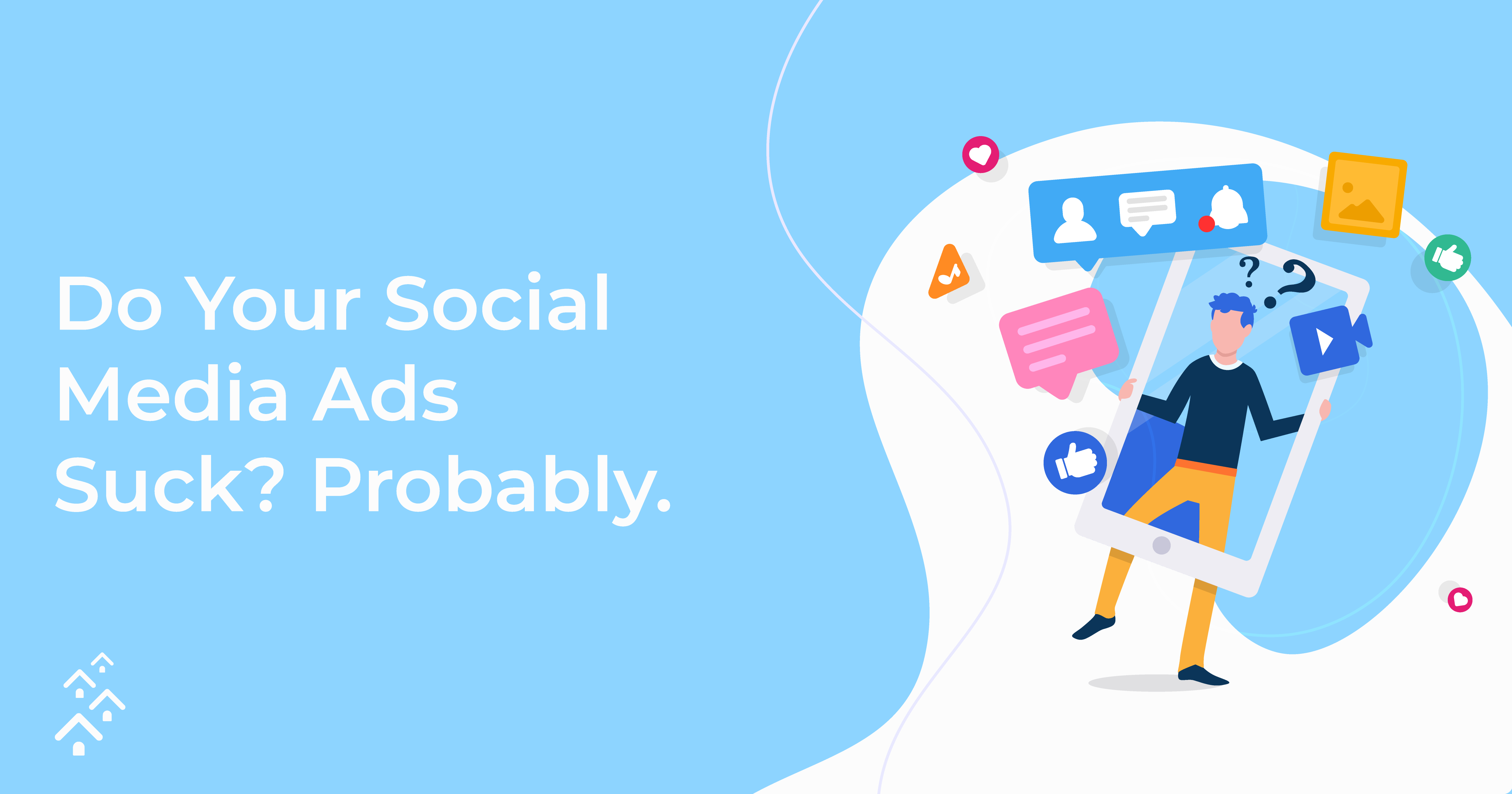 The modern renter of today has greater access to information and media about your property than ever before. Prospects are pre-qualifying themselves and self-advancing down the funnel before they ever reach out to your community. A social media presence plays a critical role in creating a sense of competence, trust, and cementing a strong brand image in the minds of your prospects. It can also be an effective conversion tool and marketing resource — but only if ad-spend is leveraged properly.
Few would be shocked to learn that 65% of U.S. adults are on social media, with 56% of them using multiple networks. With more than 2 billion users on their site every month, it seems like everyone and their mother (literally) is on Facebook. We're going to show you what that means for multifamily property managers and your marketing strategy.
What are Social Media Ads?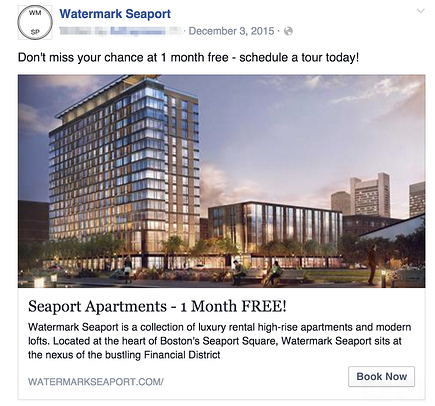 Social media advertising (SMA) is as straightforward as it sounds. Each major social network sells ad space and provides all the targeting and analytic firepower you need to serve up precisely focused ads to the exact demographic you're looking to engage.
There are a variety of ad types you can place depending on the platform:
Social Networking (Facebook) – Facebook offers the most diverse array of options for advertising. We'll look at those in greater detail below.
Microblogging Platforms (Twitter, Tumblr) — These platforms are more limited than Facebook, yet still offer a broad range of choices. On Twitter, specifically, you can place ads designed to expand community awareness, attract followers to your account, increase traffic to your website, or drive conversions.
Photo Sharing (Instagram) — Because Instagram is a visual platform, it can be an attractive option for multifamily owners. Available options include photo, video, carousel, story, and collection ads. Each of these interfaces with a different aspect of the Instagram app. Since Facebook owns Instagram, you can cross-promote the same ads right from your Facebook Ad Center without having to double post.
Video Sharing (YouTube, Vimeo) — As you'd expect, sites like YouTube are driven by video. Ads come in the form of bumper (per-video) and in-stream content. To advertise on YouTube, you'll need strong video content (duh). While that isn't the easiest lift for multifamily managers, some are finding great success on YouTube.
Why Advertise on Social Media?
Before helping you think about which platform to choose, it's important we stop and consider why a multifamily property manager would ever want to bother with SMA.
Instant Results — Content marketing and SEO strategies are a crucial element in your overall digital marketing mix, but they can take a while to kick into full gear. Social media ads drive traffic from day one.
Easier to Tune — Adwords is a robust platform if you know how to use it, but search engine marketing can be difficult to dial in. Platforms like Facebook and Twitter offer a more straightforward engagement with ad targeting and optimization.
Precise Targeting — Facebook, especially, offers a remarkable number of options to use in targeting your exact audience. The sharper your targeting, the better you'll be able to tailor your ads for conversion.
Quicker Testing/Analytics — Because SMA happens in real-time, you don't have to wait long to see whether your optimization is making an impact.
Where Should I Advertise my Apartment Community?
When it comes to social media advertising for apartment communities, there's no silver bullet. Where you advertise is more a function of your specific community and its ideal tenants than any abstract "best practice" you might find out there on the web. That said, to pick a platform, you need to know your objectives. This is the non-negotiable foundation of any marketing strategy—digital or otherwise.
Here are the five most common goals sought by advertisers on social media:
1. Increase Traffic — Simple enough, social ads drive visitors to your website. More visitors -> more leads -> more conversions -> higher occupancy.
2. Boost Visibility — Community awareness in a particular market demographic can be an important goal in your overall digital marketing mix.
3. Drive Engagement — If content marketing plays into your digital strategy, social media advertising can help you motivate interaction and sharing.
4. Generate Leads — This will probably be your chief objective, using social ads to drive potential renters to your community website.
5. Motivate Conversion — Not every renter will be convinced on their first visit. Social media ads can target past visitors and keep your community in front of them until they're ready to convert.
Once you've determined your objectives, you're in a better position to decide which platform can best serve them. Each platform is different, so choose wisely.
Objectives in hand, there are three critical questions you want to ask as you choose:
Where are your customers?
Where do your prospects spend their time online? To get you started, here's a chart from the Pew Research Center showing who's using which networks.
Which channels can your team support?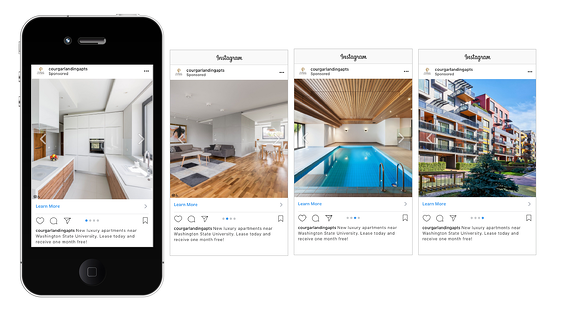 Your market may be on a particular platform, but that doesn't automatically make that network your best choice. Each platform has a preferred media medium that appeals best to users and your ads should follow suit. YouTube, for example, is a great platform but it requires professional video capabilities that you and your team may not have. In any case, contracting out creative work to a multifamily design and marketing firm is money well spent.

Where will they actually respond to your ads?
From a visual angle, Instagram is a fantastic place to showcase your community. Engagement-wise, it can be challenging to convert actual leads off the platform. Look for a platform that drives action from your target market.
There's a kind of circularity in these kinds of questions. While you can get started on each one with a little bit of observation and good marketing sense, it ultimately takes testing to discover where your ads will work best. Get started as best as you can and rely on analytics to prove whether your initial intuitions are correct. The cardinal rule of Social Media Advertising: Test everything, make changes, and optimize as you go.
Facebook Advertising Options for Multifamily Managers
Facebook has proven itself to be one of the most powerful advertising platforms for multifamily property managers. That's why we've integrated Knock with Facebook's Messenger app, and their Lead Ads.
Let's take a closer look at the multiple ad types Facebook offers:
Photo Ads — With these simple ads, you can pay to have a property photo featured in the News Feed along with a headline, 125 characters of text, and a call-to-action button (e.g., "Schedule a Tour Today").
Video Ads — Like a photo ad, these ads allow you to feature up to 240 minutes of video in the News Feed. However, shorter videos (~15 seconds) score higher completion rates, so it's better to create something quick and provocative.
Slideshow Ads — If you want the benefits of moving images without the hassle of filming and editing a video, Slideshow Ads allow you to collate a set of images to be cycled through in your ad. These ads load more quickly than videos, so they're especially effective in markets where high-speed data access is limited.
Carousel Ads — These ads are those horizontally scrolling ads that show up in your News Feed. They allow advertisers to include up to 10 photos or videos, each with its own link. For multifamily properties, carousel ads are a great way to showcase multiple floor plans and community amenities.
Collection Ads — Collection ads are like the carousel on steroids, letting you showcase your catalog of floor plans/amenities on a single page with text and video. These ads also allow you to present specific units as 'Suggested for You.'
Messenger Ads — Messenger ads show up on the home screen of Facebook Messenger and encourage users to reach out to you directly in the app. With Knock, these contacts are integrated directly into your account so that you don't have to log into Facebook to keep up with lead contacts.
Lead Ads — Lead Ads are mobile only and include pre-populated contact forms that make it easy for users to sign up for your content or reach out for more information. With Knock integration, submitted Lead Ads will automatically create and populate a new prospect card within Knock.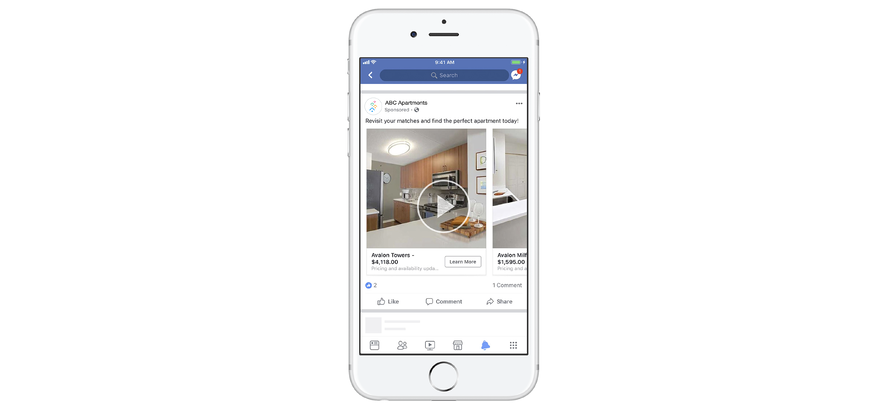 Social Media Advertising Best Practices for Multifamily Communities
Regardless of whichever network you're working with, there are several best practices you should observe as you create and optimize your social media advertising campaign.
1. Focus on Relevance Score — As we saw with search engine marketing, scoring is an essential element in getting your ads placed, keeping your costs down, and increasing engagement. To keep your relevance score high, focus on creating precisely-targeted ads that drive leads to high-conversion landing pages. Limiting the amount of copy and space that any logos take up, will help improve your relevance score.

2. Target Your Audience — This is the secret sauce in social media advertising. Be sure to tailor and target your ads so that you're not paying to reach people who fall outside your market. If you try to reach everybody, you'll reach nobody. Geo-fencing your ad is the most effective and basic method to target, while you can get as granular as particular interests. If your community is pet-friendly, then targeting people in your area with interests in animals is a good move.
3. Custom Audiences — Platforms like Facebook allow you to import your email list and created a more targeted segment than you ever could with email marketing alone. This is particularly useful if you have a specific promotion to run or you're trying to reach a subset of people in your existing network.
4. Stick With Your Audience (Retargeting) — Not everybody is ready to convert on the first visit. By installing Facebook Pixel on your site, you can create custom audiences and target users based explicitly on their previous engagement with your site. In this way, you can tailor ads to move prospective tenants further down the road towards conversion. Even if you have lost a prospect in the past, retargeting them 7-9 months later (their renewal window) could inspire them to move across town and sign a lease with you this time around.
5. Measure and Test Everything — We beat this drum in our article on search engine marketing optimization, but it's worth repeating. Marketing is measuring; there's no way to know whether your SMA campaign is working unless you watch the numbers. Keep a close eye on what you're doing, test changes, and keep dialing in your campaign until you see the results you want. The Knock analytics dashboard will break down all of the metrics that you need to know when budgeting your ad spend.
SMA takes patience and perseverance. At first, it can be challenging to find your ideal platform and create ads that connect and convert. With time, however, you'll find what works for your community, and you'll begin to see real results. Until then, don't give up.
Conclusion
At least 65% of your market is on social media. That's much more than we can say for any other form of traditional marketing. Now's the time to use the attention that's already there to get leads in the door and leases signed.