Why You've Been Giving Performance Feedback Wrong (And How to Do It the Right Way)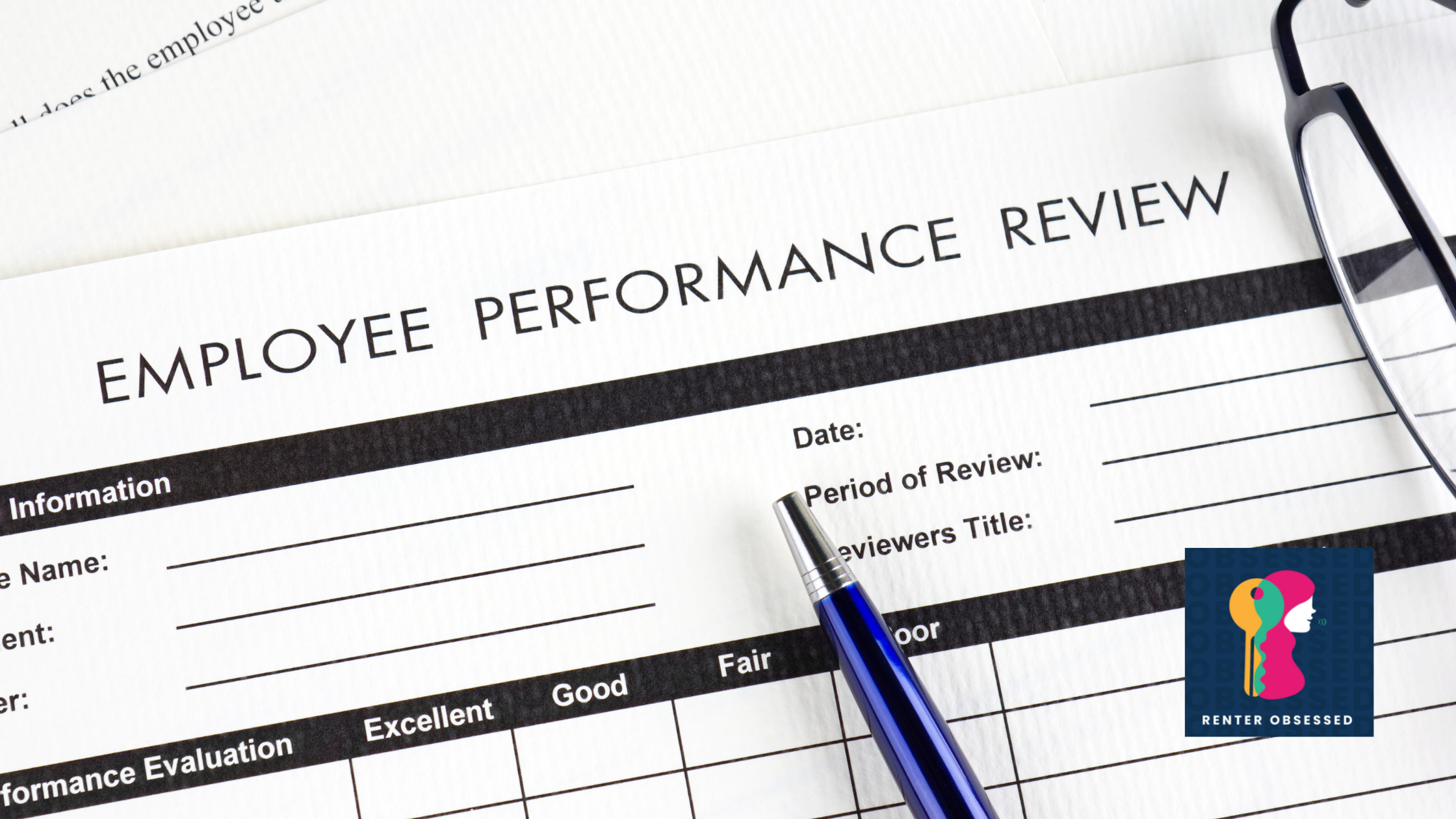 Have you ever struggled to advocate for your professional goals? Or have you ever had an experience where you didn't know what to do with the feedback you received in a performance review? You aren't alone.
In honor of employee review season, Nichole Oswald from RPM Living stopped by Knock's Renter Obsessed podcast to facilitate a discussion on how to really give and receive feedback as a manager, as well as how to advocate for yourself as an employee.
This is especially important in light of the fact that compared to men, women receive feedback that is less likely to be tied to business outcomes and more likely to be vague and challenging to implement.
So what can multifamily managers and onsite teams do to give (and receive) reviews that are actually helpful? Here are the top tips from our podcast discussion.
For multifamily managers
1. Don't give feedback — give advice.
As explained in the Harvard Business Review, feedback is so ineffective because "it is backward-looking. When someone gives you feedback, they're anchoring themselves in the bygones and reflecting on your past behavior. This makes it harder for [employees] to focus on the future."
Instead, the authors of the article recommend that managers provide advice, something that focuses on what employees can do better, not just how they did something wrong last year.
Advice is also much more actionable than feedback. Did their tour performance lag? Give them your best tips on how to conduct an awesome tour. Were they slow on following up with residents? Tell them how they can improve their task management by using the company's CRM.
2. You don't need to wait for one-on-ones to give feedback to employees.
"Certain feedback shouldn't wait until one-on-ones," said Sarah Thompson, Corporate Recruiter with The Life Properties. "Constant feedback is an environment everybody needs to adopt."
Instead of holding onto feedback for say, how to send a better email to prospects, let your employees know right after you see the email. That way, the employee can immediately start working on improving their performance — and they won't be wondering if you've been thinking about their poor performance this whole time.
3. Recognize the biases inherent in performance reviews.
As we mentioned above, women are typically given vague feedback based on their personality and attitude rather than performance, while men tend to receive more strategic feedback they can pinpoint.
Recognizing this bias is an important first step. Then, managers should actively combat it by ensuring the feedback you give to each employee is both specific and actionable. For example, biased feedback would be something like, "You seemed really negative around prospects when we needed you to be positive." Better feedback would be, "Here are a few tips to make your prospect tours more appealing."
For onsite teams
1. Dictate your own future.
One of the best parts of working in the multifamily industry is the ability to chart your own career path.
Ever since she started working in multifamily, Rebecca Smith, Senior Leasing Manager, New Development, at WPM, was vocal about where she wanted her career to go. "When everything said you go from a leasing specialist to a property manager to an RPM to an executive, I said, 'No, I'm going to go from a leasing specialist to an executive.'"
She also recommended that onsite teams excel at the things they want to do — and then before long, those are the things people at your company will ask you to do. Interested in marketing? Ask if you can help manage social media. Want to be a recruiter? Talk to the people in your HR department about trainings you can do. And like Rebecca, don't be afraid to build a role that doesn't currently exist at your company.
2. Having a manager you trust is crucial.
To be able to advocate for yourself, it's important to feel comfortable speaking openly with your manager about your goals and challenges. They can not only provide constructive feedback about your performance, but also give good advice for how to advance your career.
"Trust is something that is so, so important in our industry," said Oswald. "If you don't have a manager that you trust and is an advocate for you, go find someone that you do trust."
Having a manager you can have an open dialogue with is also important in terms of creating goals. A good manager will help you understand what your company and team goals are, and then guide you toward how your role plays a part in achieving them. If you feel like you can't do this with your current manager, reach out to other people at your organization, and see if they could act as a mentor to you.
3. Don't be afraid to advocate for yourself.
Everyone at one point or another has been asked to take on a project or task that's outside of their job description. Especially if you work at a smaller company, sometimes the team needs to come together, roll up their sleeves, and get the work done. But if these asks are starting to impact your actual responsibilities, don't be afraid to let your manager know.
"At the end of the day, you are hired to do something, but it is your career and it is something you have full control over," said Thompson. "You're not putting yourself out there as not a team player or not willing to take on more, it's being reasonable about the expectations."
Have an honest conversation with your manager if these new projects or tasks are negatively affecting the performance of your main job duties. Quiana Jones, Marketing Manager at CAPREIT, keeps a running list of her tasks; when people ask her for help on an unrelated project, she jots it down on her list. At her weekly check-ins with her boss, she can then show how these extra projects might have prevented her from spending more time on her core work.
What tips or advice do you have?
Is there anything you would add to these tips? Have you encountered any of these situations in your own career? Let us know on LinkedIn!
For the full conversation on performance reviews, listen to the podcast episode on Apple Music, Spotify, or the Knock website.
–
New episodes of Renter Obsessed are released every other week. If you'd like to join one of our live conversations, contact host Sydney Webber at swebber@knockcrm.com. And for more discussion opportunities with multifamily marketing professionals, join our growing Slack community.
Sign up for the Knock newsletter: