(Case Study) Working Smarter, Not Harder: How Scott Management Increased Closing Rates and Improved Team Performance with Knock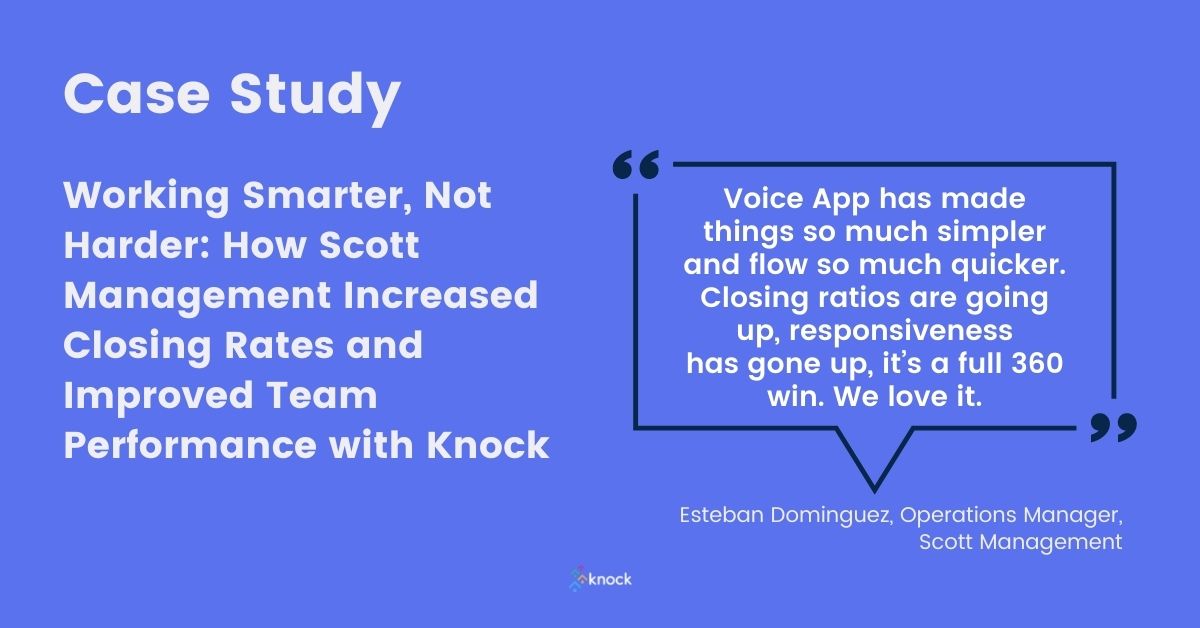 A mainstay of the Washington, D.C., area multifamily community since 1961, Scott Management has always worked to ensure their teams had the support they needed to excel. Now with nearly 4,500 units across the region, Scott has channeled that ethos into adopting technology that helps them gain a steady footprint in their market and provide the best service possible to residents.
But in recent years, their efforts were hampered by unreliable reporting from their property management system. "We had applications, we had leads, but no reporting or browser calling," says then-Operations Manager Esteban Dominguez. "We were blind the whole time."
"We were using Google numbers, anything to effectively monitor leads," says Tjuana Williams, leasing manager at Scott Management's Oakcrest Towers property.
That lack of visibility was compounded by the realities of the pandemic. "I had two team members at home and two onsite, and the goal was to ensure we were able to effectively monitor leads coming in from advertising sources," says Williams.
Then, when a snowstorm hit the Northeast in 2020, more employees were unable to make it into the office. Leadership began to seriously look into technology that would enhance their lead tracking and allow employees to work from home — ensuring that no potential renter would be missed — no matter what.
Knock "makes things so much easier"
Based on recommendations from industry peers, Director of Marketing Louise Habib began speaking with the rest of the company leadership about trying Knock CRM. With its Voice App browser calling and automation, Knock met Scott's biggest needs. Through Voice App, Scott Management's leasing agents can make and receive calls from anywhere with an internet connection, increasing productivity, expanding coverage of prospect calls, and creating a detailed record of team performance.
"We were never able to do browser calling before. In today's world of connectivity, we need an immediate response and measurability," says Dominguez.
"Voice App made it possible for us to work from home, and it was an easy transition," adds Leasing Specialist Jawanda Fields. "It was very helpful to stay connected with prospects, and I love that I can see everything on one page. I can see calls before they come in, so I can prepare and get all the notes right in front of me."
"I'm an advocate of working smarter, not harder," says Williams, who should know: She manages a community of 1,500+ units, and never misses a beat. "Now, we can make phone calls even when our lines are busy, so we're not missing out on a lot of leads. From a management aspect, it's definitely beneficial. We want to make sure we can get everything done effectively, and Knock has enabled us to do that. Knock made things so much easier."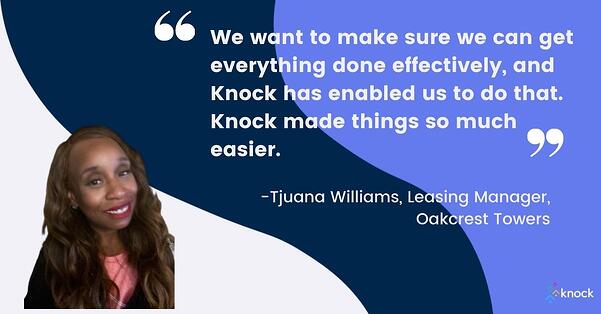 Scott Management also leveraged Knock's automation tools, including automatic email replies and tour self-scheduling. "I love self-scheduling, prospects could be at your door and Knock did all that for you," says Dominguez. "The prospect also has the capacity to be involved, not just waiting for us; we had more than 2,000 self-scheduled appointments in the last year alone."
For Williams, bulk emails and SMS texting have also been life-savers. "We can bulk-email referral flyers to my residents, save different types of follow-up lingo you can use — it makes things so much easier."
"A full 360 win"
After successfully piloting Knock at two properties, Scott Management rolled out Knock to their full portfolio — and they've already seen myriad improvements, even with team members working remotely.
Just from implementing Voice App, alone, Scott Management saw responsiveness increase 3% and average Engagement Scores increase by 10%.
"All of our scores have gone up: Closing ratios are going up, responsiveness has gone up," says Dominguez. In fact, Scott Management's performance landed them in the 90th percentile of all Knock users — with engagement rates, responsiveness, follow-ups, and prospect-to-lease all at or above benchmarks. "It's a full 360 win. We love it," says Dominguez.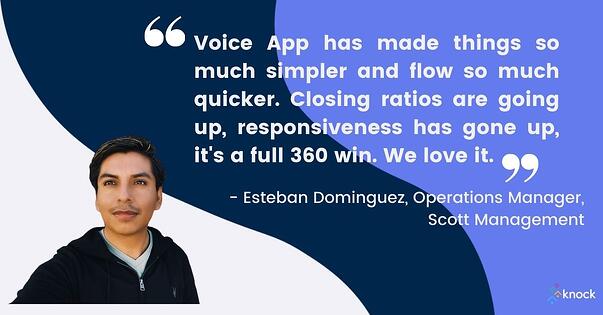 And with Knock's automation, Williams, Fields, and the rest of Scott's leasing teams have more time in their day to do what they do best: Provide quality experiences for prospects and residents.
"Our goal here is to make sure our to-do list is at zero by the end of the day. Knock allows me to go in and look at analytics, how they're doing, and make sure we're meeting their monthly goals," says Williams. "We want to make sure we can get everything done effectively, and Knock has enabled us to do that. Knock made things so much easier."