(Case Study) Stonemark Uses Quick Replies to Decrease Response Times and Improve Leasing Team Efficiency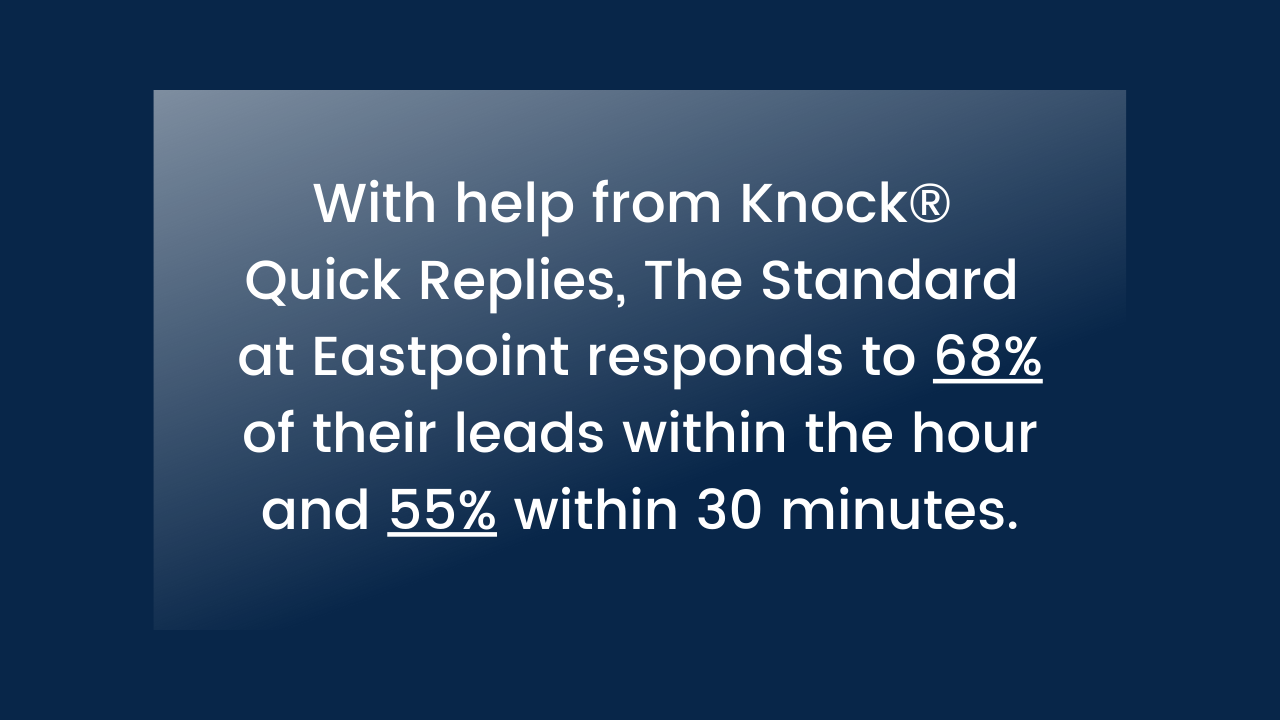 The leasing team at The Standard at Eastpoint in Houston, Texas (professionally managed by Stonemark), knows how important following up is when building a relationship with potential residents (and ultimately closing more leases).
Timing is crucial. Knock's data show that taking between one and six hours to respond to a lead can decrease a prospect's chances of leasing by more than 30 percent.
It's not just the timeliness of follow-ups that matters, but also the content of the messages, themselves. After finding that showing a prospect that they listened to their wants and needs greatly increased the chances of converting, The Standard at Eastpoint made working on quality follow-ups a crucial part of their leasing strategy.
With help from Knock Quick Replies, The Standard at Eastpoint responds to 68% of their leads within the hour and 55% within 30 minutes.
"If you remember their name or the fact that they have a cat, people love that," says Erica Parada, assistant manager at The Standard at Eastpoint. "Leasing does have a lot to do with what you offer, but that moment that you follow up, that's the reason people are calling you back."
However, The Standard at Eastpoint's follow-up goals were hampered by the realities of an old-school system.
"I would keep prospects in a folder, and I had them divided by months and had a comment section; but you can lose paperwork," says Parada.
Approach: Streamline prospect communications — without losing the personal touch — with Knock's Quick Replies.
With Knock's Quick Replies function, Parada's team saves crucial time by creating templated responses that can be used for prospect outreach.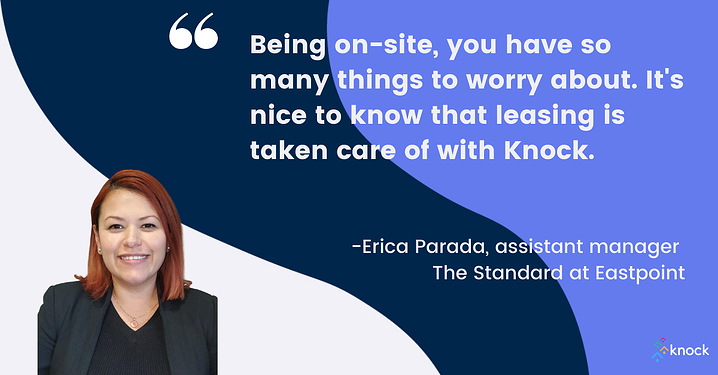 "Quick Replies are really helpful," Parada says. "I tell my team that if an apartment becomes available, and they know that we have more of the same unit type, write up a Quick Reply that they can easily edit to switch out the apartment number."
Parada also encourages her teams to create Quick Reply messages that let the agent's personality shine through. "A templated response doesn't have to feel cold," she says. "I always suggest leaving a little space in the Quick Reply to hone in on the conversation you had or anything that is specific to them. Adding a little detail about what they were interested in will go a long way."
Results: Faster response times and positive prospect feedback
With an assist from Quick Replies, The Standard at Eastpoint's team is able to respond to 68 percent of their leads within the hour and 55 percent within 30 minutes.
And it's not just The Standard at Eastpoint's leasing team who has noticed the difference Quick Replies has made, according to Parada.
"I've gotten many prospects that say, 'I reached back out to you guys because what you sent me was so detailed.' That's why Knock is so important. It reminds us, 'Remember this person? They want this apartment and liked these features. Reach out to them on December 1 and say this.' With Knock, there's no way we can fail."
See how efficient your team can become with Knock — schedule a demo today!