Industry News Roundup: Top Multifamily Companies Discuss Pandemic-Related Employee and Community Policies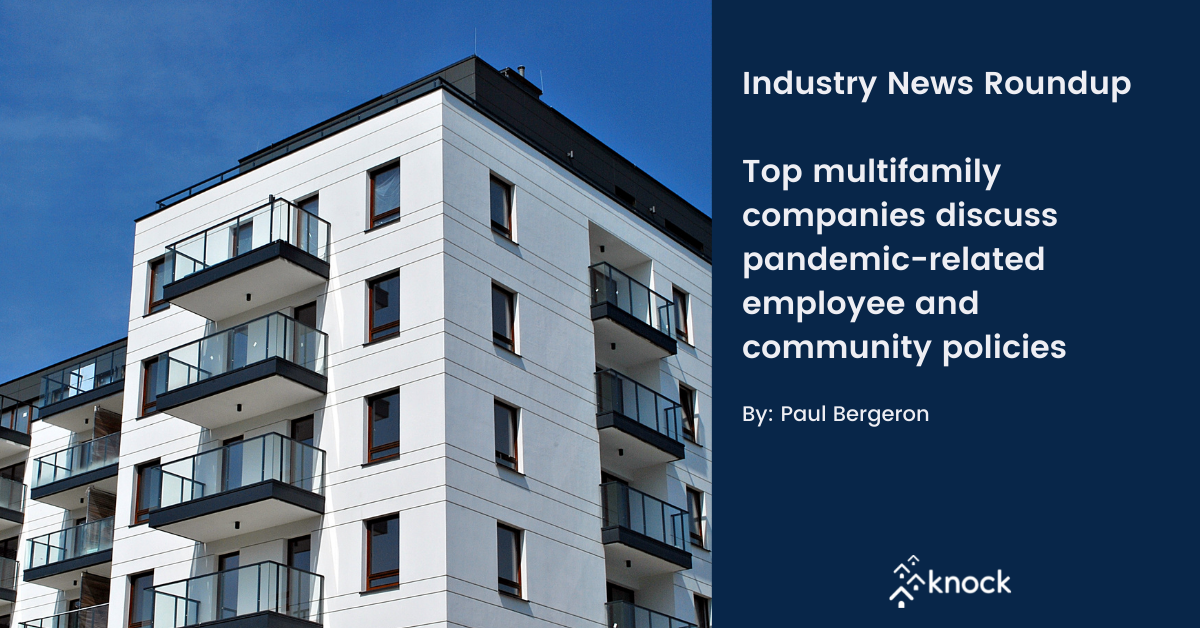 Vaccine and mask mandates, PPE and mitigation plans, and employee time off discussed during national industry call Aug. 17 among leading professionals.
The apartment industry is in the throes of another potential lockdown over pandemic restrictions and leading companies nationwide are determining policies – to complement local and federal guidelines – for their staff, their offices, and how they conduct business with their residents and work within their respective apartment homes.
Like most businesses and areas of the country, it's a fluid situation.
A popular Multifamily Leadership Huddle webinar call, organized by Atlanta's Jamin Harkness, Executive Director, The Management Group, hosted through much of 2020, was reconvened Aug. 17 and nearly 200 industry professionals participated to learn from leading executives who discussed and compare company particulars.
It featured Jamie Teabo, Senior Managing Director, Greystar; LuAnne Ross, Partner and Executive Vice President, JMG Realty; Kelli Stiehl, CEO, Woodward Management Partners; and Cindy Clare, Chief Operating Officer, Bell Partners.
Vaccination Requirements
For Greystar, vaccines are optional at this time and the company pays employees for personal time off (PTO) while getting it. Greystar is not tracking whether its workforce has been vaccinated, though it requires daily employee self-certification Covid-19 testing. The company is producing a promo video to share with its workforce that features its CEO promoting the merits of taking the vaccine.
Woodward Management Partners maintains that vaccinations are optional, though it is strongly recommending that staff take it. It is not tracking employee vaccine status.
Vaccines are optional at JMG Realty and the company is encouraging physician consultation, maintaining that it's a personal choice for its employees. It is not tracking whether its workforce has been vaccinated, though it requires daily employee self-certification Covid-19 testing.
For Bell Partners, vaccines are optional. Employees upload their vaccine cards to its human resource information system (HRIS). Daily employee Covid-19 self-certification is required in markets where it is mandated.
Aside from discussion during the Huddle call, Camden announced Tuesday that all 1,700 of its employees must be fully vaccinated by Oct. 11 or they will be told to work "someplace else," according to the Houston Chronicle.
CEO Ric Campo said, "We want to do the right thing. It's about creating a safe workplace. We decided to take a stand and hope that other companies do as well." To control the pandemic, "you must draw a line in the sand … You have the choice to get vaccinated or go work someplace else."
Mask Mandates
For mask mandates, Greystar is using a flexible schedule for its offices, with a maximum occupancy set at 25 percent, down from 50 percent just a week prior.
Socially distanced effects are in all offices and clear plastic panels or screens are in place at all site offices. Employees must wear masks at all times, though the company is not enforcing a mask mandate for residents and visitors.
Woodward Management Partners does require employees and guests to mask-up at all times. It is using the same social-distance protocols as it did in 2020. It is 100 percent "back in the office" for its team members.
JMG Realty's corporate offices relaxed its mask mandates on July 1 for those who are vaccinated, but has since gone back to recommending mask-wearing for all, especially when "moving about" the office space.
Onsite, masks have always been required for its employees and guests since 2020. The company is increasing its communication with sites about compliance and policies due to the recent Delta variant spike. Its corporate offices are using a flex schedule with a 50 percent office occupancy maximum.
Bell Partners' mask policy is reviewed weekly and updated as necessary. At the time of the call, the company said, if vaccinated, persons are not required to wear a mask unless mandated by the local jurisdiction. If employees have not been vaccinated, they must wear a mask. If a market has 10 percent of Bell Partners' employees out, having tested positive for Covid-19, masks are required for all. Company offices are 100 percent occupied.
Time Off Due to Covid-19
Greystar is following the (voluntary) Families First Coronavirus Response Act (FFCRA) guidelines and therefore is booking Covid-19 time separate from PTO. Working from home is approved while individuals are quarantining after having tested positive for Covid-19.
Woodward Management Partners is following extended (voluntary) FFCRA guidelines; booking Covid-19 time separate from PTO.
JMG Realty and Bell Partners have not changed HR time-off policies for Covid-19. Team members who are out with Covid-19 must take PTO or short-term disability, as needed.
PPE and Mitigation Plans
Greystar has extended its personal protection equipment (PPE) and office modifications from 2020. It relaxed these issues at the beginning of Q3 2021, but with surge in Delta Variant, it reinstated its 2020 protocols.
Onsite offices are open with panels, sanitization stations and 'round-the-clock mask-wearing for employees, who also must maintain social distancing.
Woodward Management Partners' policies are similar to Greystar's, PPE and office modifications extended from 2020 protocols. All of its amenity spaces are open. The company is tracking resident usage and is applying heavy sanitization practices, maintaining a 30-day supply of PPE on hand, per its 2020 protocols. It provides masks for guests.
JMG Realty has extended its PPE and office modifications from 2020 and deploys electrostatic foggers to sanitize spaces while keeping its amenity spaces open.
Bell Partners is doing the same while tracking resident usage and its sanitization practices, which rely on heavy usage of electrostatic sprayers. It is paying close attention to office and amenity space ventilation.
Office Closings
None of the companies participating on the Huddle call have closed any offices.
We will continue to update this resource as the situation changes.