Why an Integrated Front Office Solution Is More Crucial Than Ever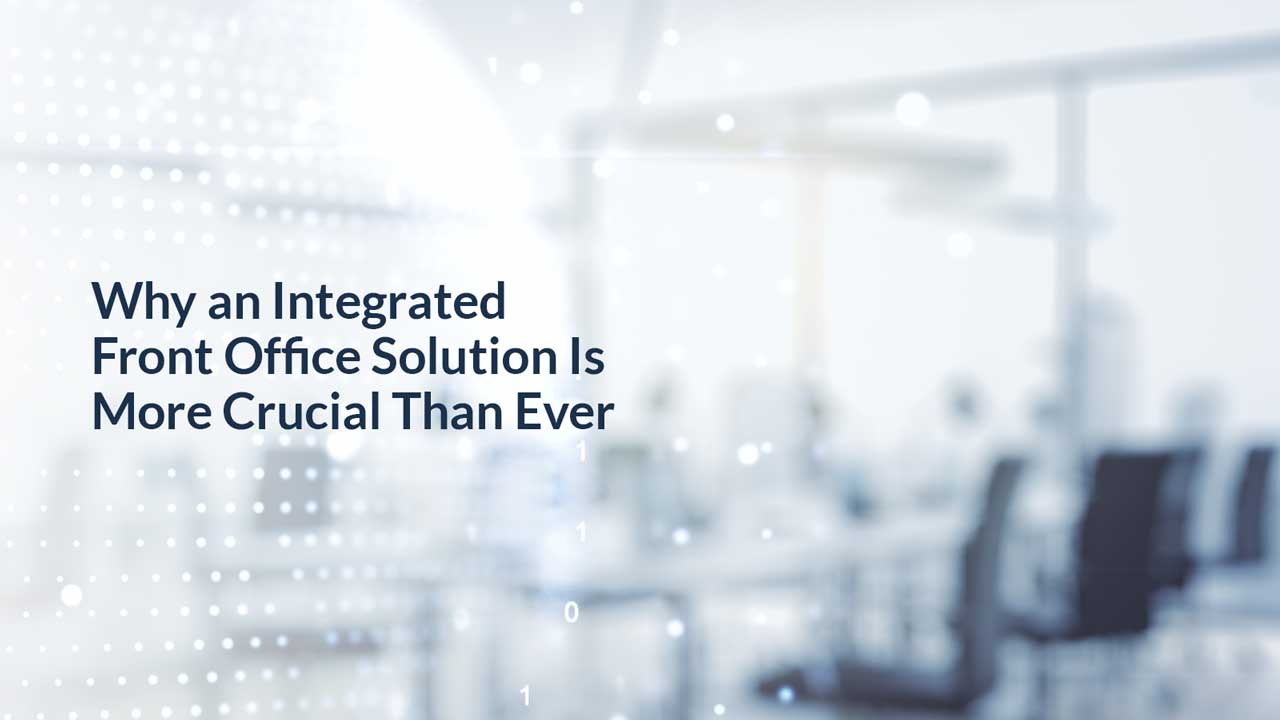 Just as the multifamily industry was starting to feel confident after weathering the effects of the pandemic — another change is on the horizon courtesy of potential economic woes. On top of that, the last few years of piping-hot demand for apartments is starting to show signs of cooling down.
How can a multifamily property management company prepare for another round of dramatic shifts in both customer behavior and business best practices? The answer is to look to the future of multifamily marketing and customer relationship management (CRM) solutions: a flexible, integrated front office platform.
Put simply, an integrated front office platform combines your marketing and CRM tech solutions to help you provide a better customer experience. This makes your leasing teams more efficient and successful, and offers more insight for budgeting at a time when that's more needed than ever.
Let's dive into exactly how an integrated front office platform can do all that.
What is an integrated front office platform?
To get started, let's differentiate front office from back office. "Front office is a combination of both the people and the technology that facilitates the relationship between a property management company and its customers," said Demetri Themelis, RealPage® SVP/Renter Engagement Innovation and co-founder and former CEO of Knock® CRM. "Anything that touches the renter while we're marketing to them, selling to them, leasing to them and even engaging with them throughout their entire renter lifecycle."
What takes front-office tech into the future is its integration capabilities — how it combines your different marketing and CRM solutions to form one seamless system that ultimately improves your customer experience.
Take Knock and G5, for example. Both focus on the front office, working to elevate a company's game regarding how they connect, engage and ultimately have great leasing outcomes with renters, but G5 focuses on marketing. At the same time, Knock is a CRM tool. Working together, they create a next-level front office.
What's the importance of an integrated front office solution?
"Being customer-centric is more important than ever, and I think that is something we have to keep in mind in 2023 and what that's going to bring," said Katie Nelson, Vice President of Marketing at CAPREIT. "We're just coming down from this pandemic where we had to do a lot of shifting and pivoting," including an updated renters' journey and new top lease-conversion channels for marketers and leasing teams to adapt to. "Many of us have been in the industry for a long time, so we've been through the Great Recession and the highs and lows of real estate, and we know it's coming around again, and we have to be prepared."
That's where an integrated front office platform comes in: It can transform your marketing and CRM efforts to increase your leasing operations' efficiency and provide a better customer experience for leasing teams and prospects. An integrated platform also means one system of record and source of data across the leasing journey for your teams — meaning access to reliable prospect information and leasing data.
Regarding protecting your bottom line against potential economic changes, Themelis stressed that an integrated front-office platform creates a better customer experience for everyone — including residents. "We spend so much time thinking about prospects, but your residents are next year's revenue," he said. "So, the more seamless we can make this experience, the better chance you'll be able to capture that revenue already living in your community." And as we mentioned at the beginning of this blog, no matter what 2023 (and beyond) may bring, it's a good idea to be prepared for pared-down budgets, fewer rental applications and lower retention.
Now, let's look at five essential marketing and CRM tools that can work together in an integrated system to transform your front-office operations.
Digital marketing solutions that succeed from a prospect's first interaction
The first step toward a customer-focused front office is easy to figure out: it's harnessing the right marketing tools to address prospective renters' first step toward finding a new apartment home.
But as mentioned above, customer behavior across the leasing journey has changed. According to NMHC's 2022 National Report, 12% of renters didn't tour a single property in person or via a live video, and 35% only visited 1-2 apartment communities before signing a lease. That means they decided almost entirely online, relying on research and reviews to inform their choice.
As a result, "In today's marketing, that first touch has to be on brand, has to be hypercustomized to multiple generations, and has to convey value," said Nelson. Furthermore, "Not only has the buyer's behavior changed, but so has the landscape of technology available to us marketers."
Digital marketing solutions like G5 address the increasingly complex need to capture the right demand along the renter journey through smart digital advertising and better data from call scoring. Intelligent, scalable digital marketing can automatically find more qualified prospects and take them from lead to lease in an integrated platform.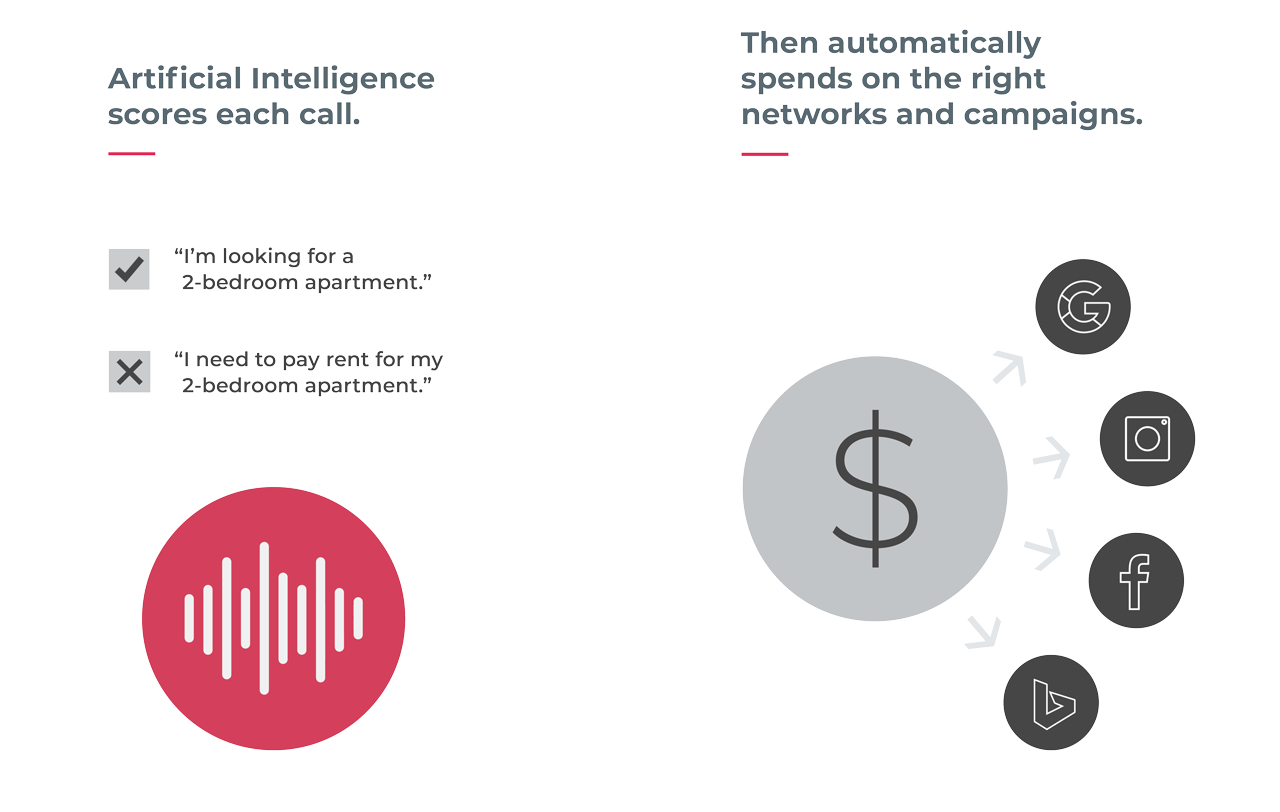 Smart digital advertising
Showing up when a user is ready to rent is essential to driving leads. While Internet Listing Services (ILS) do generate demand, lead quality varies greatly. Digital advertising, on the other hand, finds the right renters at the right time and converts them faster. With G5, for example, multifamily properties saw a 300% increase in calls from prospects intending to rent.
And because smarter digital advertising tech combines AI with automation, it takes the guesswork out of how much to spend and where. Tools like G5 take that further, automatically spending your ad budget on the highest-performing campaigns.
Intelligent call scoring
Many advertisers use call tracking to determine which campaigns drive phone calls. Still, you should look for a marketing tool that takes it further and uses that data to continually optimize your campaigns.
For example, G5's Call Scoring separates prospects from other callers — it can even distinguish between a potential renter saying, "I'm looking for a two-bedroom apartment," and a resident saying, "I need to pay rent for my two-bedroom apartment." That call data then goes into G5's Spend Optimizer, which analyzes it to distribute ad spend to the highest-performing ad campaigns.
CRM solutions that streamline nurturing and convert prospects
Once a potential renter reaches out to your community, it's up to your leasing team to convert that interest into a booked tour, which is where a CRM comes in.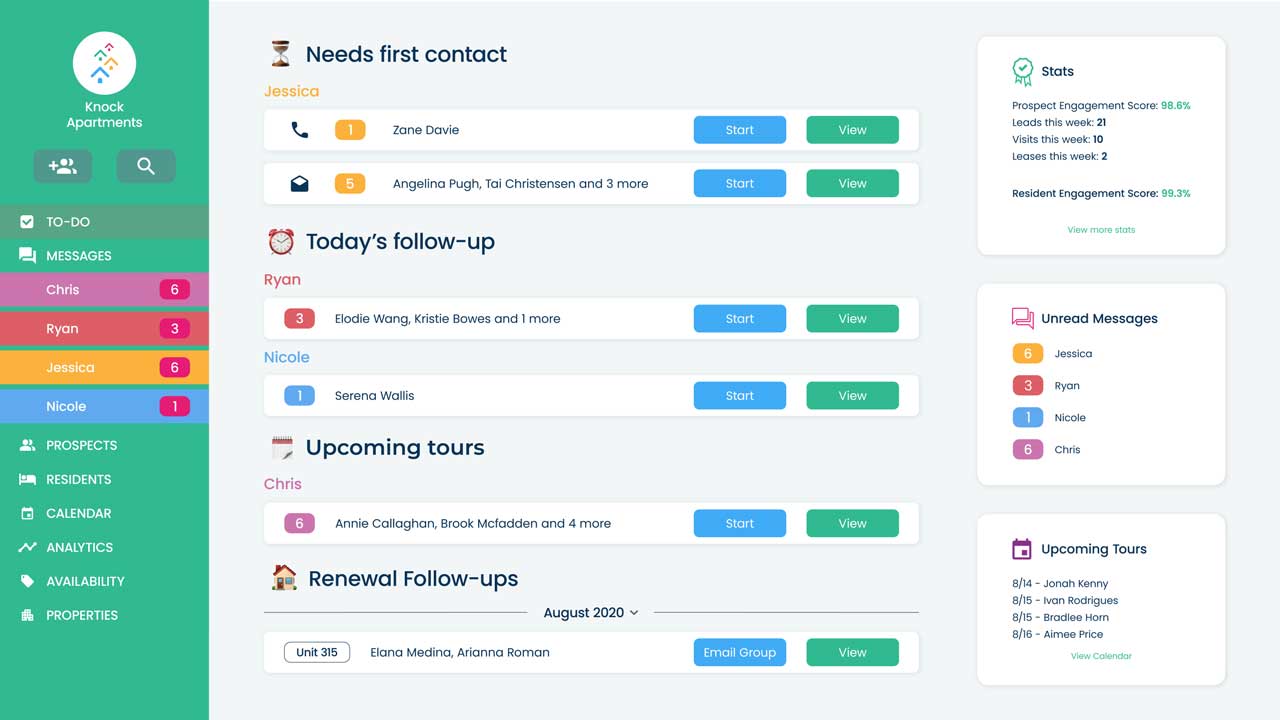 But not all CRMs are created equal. A cutting-edge CRM, like Knock, should do more than help leasing teams manage prospect communications and track leasing journey steps. It modernizes the front office with an intuitive platform that creates efficiency across your organization, sets leasing staff up for success, leverages automation and gives prospects the customer experience they expect (and deserve). Here are three tools to look for that can help you do just that:
AI (and no, we're not talking about ChatGPT)
When communicating with prospects, every second counts — literally. Customers expect to receive a response in under 90 minutes, which drops to 90 seconds if it's a text message. If you're falling short in your response time, chances are you're losing leases every day due to abandonment.
Multifamily AI tools, like Knock's AI Voice and AI Chat, can help teams handle the influx of prospect calls and initial questions with fewer staff members. With all this early info gathered (and automatically entered into prospects' guest cards), your leasing teams are teed up to provide customized, personal attention to prospects further down the leasing journey. (Want to learn more about AI? Check out Knock's guide to AI for multifamily.)
Automation
Having your communication channels open and managed is only half of the conversion equation — strategic, quality engagement is the other. With leads at different stages of qualification contacting your leasing teams through a variety of mediums, it's essential to have a CRM that uses automation to help your leasing teams focus on relationship building instead of busy work.
Take Knock, for example. In terms of prospect management, it automatically populates guest cards after every prospect interaction, sends immediate follow-ups via customizable email and text templates, and offers a chatbot for prospects to schedule a tour, view pricing and availability, and read FAQs. On the leasing team side, it provides a user-friendly to-do list that keeps leasing staff organized, prevents prospects from falling through the cracks and gives agents access to an integrated voice app and digital leasing binder.
Tour self-scheduling
With , this feature is a must-have for a modern property management company. But some CRM solutions take it a step further than simply offering up a calendar with available dates for prospects to click on. With a CRM like Knock, you can add self-scheduling to ILS ads (hello, communication between marketing and CRM!) and get accurate attribution data on where leads come from. You can also be reassured that leads are automatically merged into the CRM and integrate a chatbot into the experience for any questions prospects may have.
"1+1=3": How integrated solutions raise the bar on the customer experience
Armed with marketing and CRM tools to improve the customer journey, it's time to bring everything home by looking for a front office platform that combines them both.
"There's a natural limit to what can be done with nonintegrated solutions," said Themelis. "So, by bringing solutions together, it's '1+1=3.' That synergistic effect enables totally new dimensions of efficiency and makes it easier for leasing teams to do their job."
He continued, "I think what's cool is to reinforce the fact that 'front office' doesn't need to be a bunch of different point solutions that have limited degrees of integration, but we can start to think of this in the future as more of a whole — one unified way that we're raising the bar of how we engage with our customers."
Want a head start on leveraging an integrated leasing platform? Chat with us about how Knock CRM and G5 can boost your front office operations.